Honda Accord: Voice Control Switch Test
1. Remove the voice control switch (see page 17-7).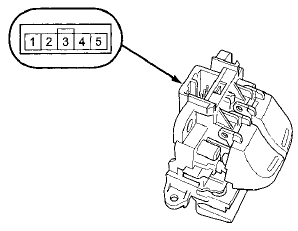 2. Measure the resistance between terminals No. 2 and No. 4 in each switch position according to the table.

3. If the resistance is not as specified, replace the voice control switch (see page 23-241).
1. Remove the rear shelf (see page 20-128). 2. Disconnect the GPS antenna connector (A), and remove the bolt (B). 3. Detach the harness clips, and remove the GPS antenna (C). 4. Install the ...
1. Remove the steering wheel (see page 17-6). 2. Remove the voice control switch (see page 17-7). 3. Install the voice control switch in the reverse order of removal. ...
See also:
Glass Replacement
1. Close the glass fully. 2. Slide the sunshade all the way back. 3. Pry out the lid (A), remove the screw (B), and release the hooks (C), then remove the bracket cover (D). Repeat on the op ...
Carrier Bearing Replacement
Special Tools Required Attachment, 40 x 50 mm 07LAD-PW50601 NOTE: -The bearing and the bearing outer race should be replaced as a set. -Inspect and adjust the carrier bearing preload wheneve ...
Front Seat Frame Replacement Driver's Seat
Special Tools Required KTC Trim Tool Set SOJATP2014* *Available through the Honda Tool and Equipment Program; call 888-424-6857 SRS components are located in this area. Review the SRS component ...