Honda Accord: USB Flash Memory Device Error Messages (Models with navigation system)
If you see an error message in the center display while playing a USB flash memory device, find the solution in the chart to the right. If you cannot clear the error message, take your vehicle to your dealer.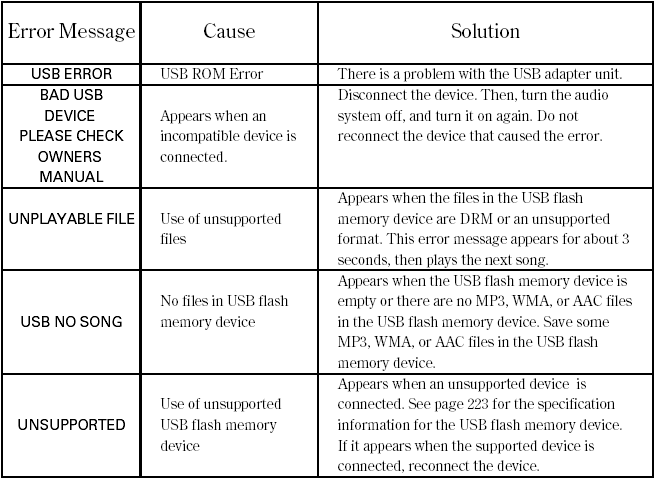 To play the radio, press the FM/AM, or button. Press the CD button to switch to the disc mode. Press the AUX button to switch back to the USB. If you reconnect the same USB flash memory ...
See also:
Throttle Body Removal/Installation
Do not insert your fingers into the installed throttle body when you turn the ignition switch to ON (II) or while the ignition switch is in ON (II). If you do, you will seriously injure your finger ...
Side Impact Sensor (First) Replacement
4-Door Removal 1. Do t h e battery t e r m i n a l d i s c o n n e c t i o n procedure (see page 22-91), t h e n w a i t at least 3 m i n u t e s before s t a r t i ng work. 2. Remove t h e B-p ...
To Stop Playing Your iPod
To play the radio, press the AM, FM, or button. Press the CD/ AUX button to switch between disc mode (if a disc is loaded) and the iPod and AUX. On models without XM Radio, press the CD but ...