Honda Accord: Transmission Number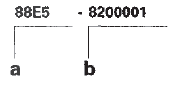 Transmission Type
88E5: 5-speed Manual
B90A: 5-speed Automatic
Serial Number
2000001-: B90A
8200001-: 88E5
Engine Type K24Z3: 2.4 L DOHC i-VTEC Sequential Multiport Fuel-injected, 190HP engine Serial Number 2500001-: PZEV 2800001-: Except PZEV ...
See also:
Front Inner Fender Replacement
NOTE: - Put on gloves to protect your hands. - Take care not to scratch the body. - When prying with a flat-tip screwdriver, wrap it with protective tape to prevent damage. 1. Remove the f ...
Cf Under Head Cover Mmmmm
1. Remove the strut brace (if equipped) (see page 20-306). 2. Remove the engine cover. 3. Remove the four ignition coils (see page 4-20). 4. Remove the dipstick (A), and the power steering ( ...
DTC Troubleshooting
DTC 81152: Gauge Control Module (EEPROM) Error NOTE: If you are troubleshooting multiple DTCs, be sure to follow the instructions in B-CAN System Diagnosis Test Mode A (see page 22-134). 1. Cle ...