Honda Accord: Transmission Number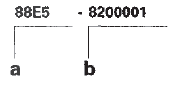 Transmission Type
88E5: 5-speed Manual
B90A: 5-speed Automatic
Serial Number
2000001-: B90A
8200001-: 88E5
Engine Type K24Z3: 2.4 L DOHC i-VTEC Sequential Multiport Fuel-injected, 190HP engine Serial Number 2500001-: PZEV 2800001-: Except PZEV ...
See also:
Circuit Diagram
...
Rack Guide Adjustment
Special Tools Required Locknut Wrench, 40 mm 07MAA-SL00100 or Locknut Wrench, 41 mm 07916-SA50001 1. Set the front wheels in the straight ahead position. 2. Loosen the rack guide screw locknut ( ...
Driving
This chapter discusses driving, refueling, and information on items such as accessories. ...