Honda Accord: Transmission Number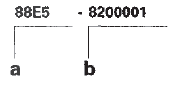 Transmission Type
88E5: 5-speed Manual
B90A: 5-speed Automatic
Serial Number
2000001-: B90A
8200001-: 88E5
Engine Type K24Z3: 2.4 L DOHC i-VTEC Sequential Multiport Fuel-injected, 190HP engine Serial Number 2500001-: PZEV 2800001-: Except PZEV ...
See also:
Parking Light Bulbs
When replacing, use the following bulbs. Turn the steering wheel and pull the inner fender back in the same way as when replacing the front turn signal/side marker light bulbs. 1. Turn the s ...
Accelerator Pedal Module Removal/Installation
1. Disconnect the APP sensor connector (A). 2. Remove the accelerator pedal module (B). NOTE: The APP sensor is not available separately. Do not disassemble the accelerator pedal module. 3. ...
Symptom Troubleshooting Index
Power Door Locks/Kef less 1. Check for B-CAN DTCs. If any B-CAN DTCs are Indicated, refer to the B-CAN System Diagnosis Test Mode A (see page 22-134) and resolve them first. 2. If the door lock ...