Honda Accord: Transmission Number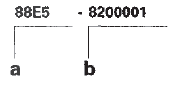 Transmission Type
88E5: 5-speed Manual
B90A: 5-speed Automatic
Serial Number
2000001-: B90A
8200001-: 88E5
Engine Type K24Z3: 2.4 L DOHC i-VTEC Sequential Multiport Fuel-injected, 190HP engine Serial Number 2500001-: PZEV 2800001-: Except PZEV ...
See also:
Fuel Pump/Fuel Gauge Sending Unit Replacement
1. Remove the fuel tank unit (see page 11 -320). 2. Remove the fuel level sensor (fuel gauge sending unit) (A) from the fuel tank unit (B). 3. Check these items before installing the fuel tank ...
Ignition Switch Replacement
NOTE: SRS components are located In the area. Review the SRS component locations 4-door (see page 24-21), 2-door (see page 24-23), and precautions and procedures (see page 24-25) before doing repai ...
Phone Setup
This command group is available for paired cell phones. Phone pairing tips You cannot pair your phone while the vehicle is moving. Your phone must be in discovery or search mode to pair. Refe ...