Honda Accord: Transmission Number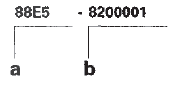 Transmission Type
88E5: 5-speed Manual
B90A: 5-speed Automatic
Serial Number
2000001-: B90A
8200001-: 88E5
Engine Type K24Z3: 2.4 L DOHC i-VTEC Sequential Multiport Fuel-injected, 190HP engine Serial Number 2500001-: PZEV 2800001-: Except PZEV ...
See also:
Error Codes
The audio system can display error codes when a problem is detected with the audio disc changer, the audio disc, the XM radio, or the anti-theft code. CD Error Codes XM Error Codes Audio Uni ...
Back-up Light Switch Test
1. Disconnect the back-up light switch 2P connector (A). 2. Check for continuity between back-up light switch 2P connector terminals No. 1 and No. 2. There should be continuity only when the shif ...
Circuit Diagram
...