Honda Accord: Transmission Number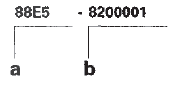 Transmission Type
88E5: 5-speed Manual
B90A: 5-speed Automatic
Serial Number
2000001-: B90A
8200001-: 88E5
Engine Type K24Z3: 2.4 L DOHC i-VTEC Sequential Multiport Fuel-injected, 190HP engine Serial Number 2500001-: PZEV 2800001-: Except PZEV ...
See also:
Ignition Switch
WARNING Removing the key from the ignition switch while driving locks the steering. This can cause you to lose control of the vehicle. Remove the key from the ignition switch only when p ...
Injector Replacement
1. Relieve the fuel pressure (see page 11-306). 2. Remove the engine cover, 3. Disconnect the quick-connect fitting (A). 4. Disconnect the Injector connectors (B) and the engine mount control s ...
Horn Switch Test
NOTE: Check for a blown No. 10 (20 A) fuse in the under-hood fuse/relay box. If it is blown, check for a faulty horn relay. 1. Turn the steering wheel 180 degrees from the center position and re ...