Honda Accord: Transmission Number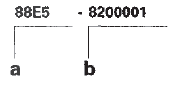 Transmission Type
88E5: 5-speed Manual
B90A: 5-speed Automatic
Serial Number
2000001-: B90A
8200001-: 88E5
Engine Type K24Z3: 2.4 L DOHC i-VTEC Sequential Multiport Fuel-injected, 190HP engine Serial Number 2500001-: PZEV 2800001-: Except PZEV ...
See also:
Steering Lock Replacement
1. Remove the steering column (see page 17-10). 2. Center-punch both of the two shear bolts, and drill their heads off with a 5 mm (0.20 in) drill bit. Be careful not to damage the steering lock ...
Self-diagnostic Function
NOTE: Before testing, troubleshoot the multiplex integrated control unit first, using B-CAN System Diagnosis Test Mode A (see page 22-134). The gauge control module has a self-diagnostic functio ...
Folder Random
This feature, when activated, plays all files in the current folder in random order. To activate folder random play, select FOLDER RANDOM by using the interface knob, and press ENTER on the ...