Honda Accord: Transmission Number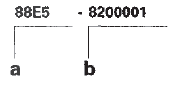 Transmission Type
88E5: 5-speed Manual
B90A: 5-speed Automatic
Serial Number
2000001-: B90A
8200001-: 88E5
Engine Type K24Z3: 2.4 L DOHC i-VTEC Sequential Multiport Fuel-injected, 190HP engine Serial Number 2500001-: PZEV 2800001-: Except PZEV ...
See also:
Maintenance
...
Maintain a Proper Sitting Position
After all occupants have adjusted their seats and head restraints, and put on their seat belts, it is very important that they continue to sit upright, well back in their seats, with their f ...
Headlight Aiming
The headlights were properly aimed when your vehicle was new. If you regularly carry heavy items in the trunk or pull a trailer, readjustment may be required. Adjustments should be done by y ...