Honda Accord: Maintenance Sub Items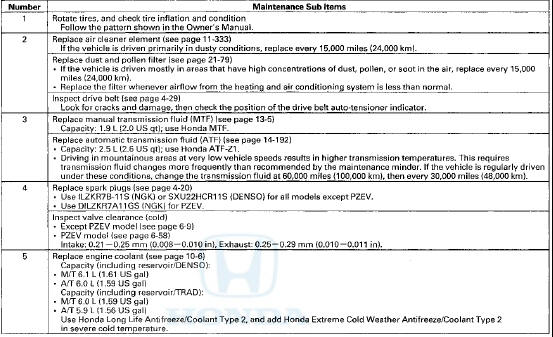 SUPPLEMENTAL RESTRAINT SYSTEM (SRS) {if engine electrical maintenance is. required)
The Accord SRS includes a driver's airbag in the steering wheel hub, a passenger's airbag in the dashboard above the glove box, seat belt tensioners in the front seat belt retractors, side curtain airbags in the sides of the roof, and side airbags in the front seat-backs. Information necessary to safely service the SRS is Included in this Service Manual. Items marked with an asterisk (*) on the contents page include or are located near SRS components. Servicing, disassembling, or replacing these items requires special precautions and tools, and should be done by an authorized Honda dealer.
- To avoid rendering the SRS inoperative, which could lead to personal injury or death in the event ot a severe frontal or side collision, all SRS service work should be done by an authorized Honda dealer.
- Improper service procedures, including incorrect removal and installation of the SRS, could lead to personal injury caused by unintentional deployment of the airbags, side airbags, and/or side curtain airbags.
- Do not bump or impact the SRS unit, front impact sensors, side impact sensors, or rear safing sensor, especially when the ignition switch is in ON (II), or for at least 3 minutes after the ignition switch Is turned to LOCK (0); otherwise, the system may fail In a collision, or the airbags may deploy.
- SRS electrical connectors are identified by yellow color coding. Related components are located in the steering column, center console, dashboard, dashboard lower cover, In the dashboard above the glove box, In the front seats, in the roof side, and around the floor. Do not use electrical test equipment on these circuits.
If message "SERVICE" does not appear more than 12 months after the display is reset change the engine oil every year. NOTE: - Independent of the maintenance messages in the smart maint ...
See also:
Console Accessory Power Socket Test/Replacement
NOTE: If all of the front and console accessory power sockets do not work, check the No. 1 8 (7.5 A) fuse in the driver's under-dash fuse/relay box and ground (G503) first. 1. Remove the center ...
Side Impact Sensor (Second) Replacement
4-Door Removal 1. Do t h e b a t t e r y t e r m i n a l d i s c o n n e c t i o n procedure (see page 22-91), t h e n w a i t at least 3 m i n u t e s before s t a r t i ng work. 2. Remove t ...
Evaporator Core Replacement
1. Recover the refrigerant with a recovery/recycIing/charging station (see page 21-80). 2. Remove the bolt from the A/C line clamp (A). 3. Remove the bolt, then disconnect the A/C line (A) fro ...