Honda Accord: Engine Number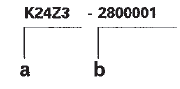 Engine Type
K24Z3: 2.4 L DOHC i-VTEC Sequential Multiport Fuel-injected, 190HP engine
Serial Number
2500001-: PZEV
2800001-: Except PZEV
Manufacturer, Make, and Type of Vehicle 1HG; Honda of America Mfg., Inc. Honda passenger vehicle Line, Body, and Engine Type CS1: Accord Coupe/K24Z3 Body Type and Transmission Type 1: 2-door ...
Transmission Type 88E5: 5-speed Manual B90A: 5-speed Automatic Serial Number 2000001-: B90A 8200001-: 88E5 ...
See also:
Upper Arm Replacement
Special Tools Required - Ball Joint Thread Protector, 14 mm 07AAE-SJAA100 * Ball Joint Remover, 32 mm 07MAC-SL0A102 1. Raise and support the vehicle (see page 1-13). 2. Remove the rear wheel. ...
Transmission End Cover
End Cover Installation Exploded View Special Tools Required Mainshaft Holder 07GAB-PF50101 NOTE: Refer to the Exploded View as needed during the following procedure. 1. Install the mainshaft ...
A/T Clutch Pressure Control Solenoid Valve B and C Test
1. Connect the HDS to the DLC (A) located under the driver's side of the dashboard. 2. Turn the ignition switch to ON (II). Make sure the HDS communicates with the PCM. If it does not, go to the ...