Honda Accord: Engine Number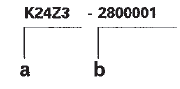 Engine Type
K24Z3: 2.4 L DOHC i-VTEC Sequential Multiport Fuel-injected, 190HP engine
Serial Number
2500001-: PZEV
2800001-: Except PZEV
Manufacturer, Make, and Type of Vehicle 1HG; Honda of America Mfg., Inc. Honda passenger vehicle Line, Body, and Engine Type CS1: Accord Coupe/K24Z3 Body Type and Transmission Type 1: 2-door ...
Transmission Type 88E5: 5-speed Manual B90A: 5-speed Automatic Serial Number 2000001-: B90A 8200001-: 88E5 ...
See also:
ECM/PCM Replacement
Special Tools Required - Honda diagnostic system (HDS) tablet tester - Honda Interface Module (HIM) and an iN workstation with the latest HDS software version - HDS pocket tester ...
HFL Switch Test
1. Remove the driver's airbag (see page 24-211) 2. Remove the steering wheel (see page 17-6). 3. Measure the resistance between terminals No. 3 and No. 4 in each switch position according to the ...
Tensioner Pulley Replacement
1. Remove the auto-tensioner (see page 4-31). 2. Clamp the auto-tensioner (A) by using two 8 mm bolts (B) and a vise (C) as shown. Do not clamp the auto-tensioner itself, then remove the tensione ...