Honda Accord: Engine Number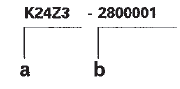 Engine Type
K24Z3: 2.4 L DOHC i-VTEC Sequential Multiport Fuel-injected, 190HP engine
Serial Number
2500001-: PZEV
2800001-: Except PZEV
Manufacturer, Make, and Type of Vehicle 1HG; Honda of America Mfg., Inc. Honda passenger vehicle Line, Body, and Engine Type CS1: Accord Coupe/K24Z3 Body Type and Transmission Type 1: 2-door ...
Transmission Type 88E5: 5-speed Manual B90A: 5-speed Automatic Serial Number 2000001-: B90A 8200001-: 88E5 ...
See also:
Multi-Information Display Warning andInformation Messages
The following messages appear only on the multi-information display. Press the (information) button to see the message again with the system message indicator on. ...
Light Switches
Х Manual Operation Rotating the light switch turns the lights on and off, regardless of the position of the ignition switch*1. Х High beams Push the lever forward until you hear a click. Х L ...
Front Brake Pad Inspection and Replacement
Special Tools Required Brake Caliper Piston Compressor 07AAE-SEPA101 Frequent inhalation of brake pad dust, regardless of material composition, could be hazardous to your health. - Avoid breath ...