Honda Accord: Engine Number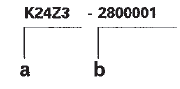 Engine Type
K24Z3: 2.4 L DOHC i-VTEC Sequential Multiport Fuel-injected, 190HP engine
Serial Number
2500001-: PZEV
2800001-: Except PZEV
Manufacturer, Make, and Type of Vehicle 1HG; Honda of America Mfg., Inc. Honda passenger vehicle Line, Body, and Engine Type CS1: Accord Coupe/K24Z3 Body Type and Transmission Type 1: 2-door ...
Transmission Type 88E5: 5-speed Manual B90A: 5-speed Automatic Serial Number 2000001-: B90A 8200001-: 88E5 ...
See also:
Front Splash Shield Replacement
NOTE: - Put on gloves to protect your hands. - Take care not to scratch the body. - When prying with a flat-tip screwdriver, wrap it with protective tape to prevent damage. - 4-door is sho ...
Front Seat Frame Replacement Driver's Seat
Special Tools Required KTC Trim Tool Set SOJATP2014* *Available through the Honda Tool and Equipment Program; call 888-424-6857 SRS components are located in this area. Review the SRS component ...