Honda Accord: Engine Number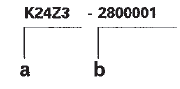 Engine Type
K24Z3: 2.4 L DOHC i-VTEC Sequential Multiport Fuel-injected, 190HP engine
Serial Number
2500001-: PZEV
2800001-: Except PZEV
Manufacturer, Make, and Type of Vehicle 1HG; Honda of America Mfg., Inc. Honda passenger vehicle Line, Body, and Engine Type CS1: Accord Coupe/K24Z3 Body Type and Transmission Type 1: 2-door ...
Transmission Type 88E5: 5-speed Manual B90A: 5-speed Automatic Serial Number 2000001-: B90A 8200001-: 88E5 ...
See also:
Transmission Disassembly
Exploded View-Clutch Housing 1.DIFFERENTIAL ASSEMBLY 2.SHIFT FORK ASSEMBLY 3.6 mm FLANGE BOLT 13 N-m (1.3 kgf-m, 9.4 Ibf-ft) 4.BEARING SET PLATE 5.COUNTERSHAFT ASSEMBLY 6.NEEDLE BEARING 7.OI ...
Rear Seat Armrest Beverage Holder Replacement
Special Tools Required KTC Trim Tool Set SOJATP2014* * Available through the Honda Tool and Equipment Program; call 888-424-6857 4-door NOTE: - Take care not to tear or damage the seat covers. ...
Upper Arm Replacement
Special Tools Required - Ball Joint Thread Protector, 14 mm 07AAE-SJAA100 * Ball Joint Remover, 32 mm 07MAC-SL0A102 1. Raise and support the vehicle (see page 1-13). 2. Remove the rear wheel. ...