Honda Accord: Engine Number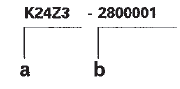 Engine Type
K24Z3: 2.4 L DOHC i-VTEC Sequential Multiport Fuel-injected, 190HP engine
Serial Number
2500001-: PZEV
2800001-: Except PZEV
Manufacturer, Make, and Type of Vehicle 1HG; Honda of America Mfg., Inc. Honda passenger vehicle Line, Body, and Engine Type CS1: Accord Coupe/K24Z3 Body Type and Transmission Type 1: 2-door ...
Transmission Type 88E5: 5-speed Manual B90A: 5-speed Automatic Serial Number 2000001-: B90A 8200001-: 88E5 ...
See also:
Fuel Pump/Fuel Gauge Sending Unit Replacement
1. Remove the fuel tank unit (see page 11 -320). 2. Remove the fuel level sensor (fuel gauge sending unit) (A) from the fuel tank unit (B). 3. Check these items before installing the fuel tank ...
Towing Your Vehicle
Your vehicle is not designed to be towed behind a motor home. If your vehicle needs to be towed in an emergency. ...
Change Lever Assembly Disassembly/Reassembly
NOTE: Prior to reassembling, clean all the parts in solvent, dry them, and apply grease to contact surfaces as shown. Do not wash the rubber parts with solvent. ...