Honda Accord: Engine Number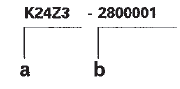 Engine Type
K24Z3: 2.4 L DOHC i-VTEC Sequential Multiport Fuel-injected, 190HP engine
Serial Number
2500001-: PZEV
2800001-: Except PZEV
Manufacturer, Make, and Type of Vehicle 1HG; Honda of America Mfg., Inc. Honda passenger vehicle Line, Body, and Engine Type CS1: Accord Coupe/K24Z3 Body Type and Transmission Type 1: 2-door ...
Transmission Type 88E5: 5-speed Manual B90A: 5-speed Automatic Serial Number 2000001-: B90A 8200001-: 88E5 ...
See also:
DLC Circuit Troubleshooting
NOTE: If you suspect the HDS or the HDS DLC cable may be the source of the communication probrem, verify that they are working properly by connecting them to a known-good, like vehicle and system, ...
Changing a Flat Tire
If you have a flat tire while driving, pull over safely. Drive slowly along the shoulder until you get to an area far away from traffic lanes. The vehicle can easily roll off the jack, se ...
Immobilizer-Keyless Control Unit Replacement
1 . Remove the driver's dashboard lower cover (see page 20-166). 2. Remove the steering column covers (see page 20-181). 3. Disconnect the 7P connector (A) from the immobilizer-keyless contro ...