Honda Accord: Engine Number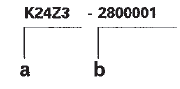 Engine Type
K24Z3: 2.4 L DOHC i-VTEC Sequential Multiport Fuel-injected, 190HP engine
Serial Number
2500001-: PZEV
2800001-: Except PZEV
Manufacturer, Make, and Type of Vehicle 1HG; Honda of America Mfg., Inc. Honda passenger vehicle Line, Body, and Engine Type CS1: Accord Coupe/K24Z3 Body Type and Transmission Type 1: 2-door ...
Transmission Type 88E5: 5-speed Manual B90A: 5-speed Automatic Serial Number 2000001-: B90A 8200001-: 88E5 ...
See also:
Brake PadWear Indicators
The front and rear disc brakes on all models have audible brake pad wear indicators. If the brake pads need replacing, you will hear a distinctive, metallic screeching sound when you apply ...
Braking System Design
The hydraulic system that operates the brakes has two separate circuits. Each circuit works diagonally across the vehicle (the left-front brake is connected with the right-rear brake, etc.). ...
Transmission Range Switch Test
1. Raise the vehicle on a lift, or apply the parking brake, block the rear wheels, and raise the front of the . vehicle. Make sure it is securely supported. 2. Remove the left front wheel. 3. ...