Honda Accord: Engine Number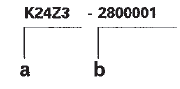 Engine Type
K24Z3: 2.4 L DOHC i-VTEC Sequential Multiport Fuel-injected, 190HP engine
Serial Number
2500001-: PZEV
2800001-: Except PZEV
Manufacturer, Make, and Type of Vehicle 1HG; Honda of America Mfg., Inc. Honda passenger vehicle Line, Body, and Engine Type CS1: Accord Coupe/K24Z3 Body Type and Transmission Type 1: 2-door ...
Transmission Type 88E5: 5-speed Manual B90A: 5-speed Automatic Serial Number 2000001-: B90A 8200001-: 88E5 ...
See also:
Engine Removal
Special Tools Required . Universal Lifting Eyelet 07AAK-SNAA120 Engine Hanger Adapter VSB02C000015* - Engine Support Hanger, A and Reds AAR-T1256* - Subframe Adapter VSB02C000016* *Available thro ...
Intermediate Shaft Reassembly
Exploded View Special Tools Required -Oil Seal Driver 07GAD-PH70201 -Half Shaft Base 07NAF-SR30101 -Attachment 52 x 55 mm 07746-0010400 -Attachment 35 mm I.D. 07746-0030400 -Driver Handle, 15 ...
Specifications (4-cylinder models)
Dimensions Dimensions Weights Weights Air Conditioning Air Conditioning Engine Engine Seating Capacities Seating Capacities Capacities Capacities * 1: Including the coolant in ...