Honda Accord: Rocker Arm and Shaft Disassembly/Reassembly
NOTE: - Identify each part as it is removed so that each item can be reinstalled in its original locations, a Inspect the rocker arm shaft and rocker arms (see page 6-83).
- If reused, the rocker arms must be installed in the original locations.
- When removing, or installing the rocker arm assembly, do not remove the camshaft holder bolts. The bolts will keep the holders and rocker arms on the shaft.
- Prior to reassembling, clean all the parts in solvent, dry them, and apply new engine oil to any contact points.
- Bundle the rocker arms with rubber bands to keep them together as a set.
- When replacing the VTEC rocker arm assembly, remove the fastening hardware from the new VTEC rocker arm assembly.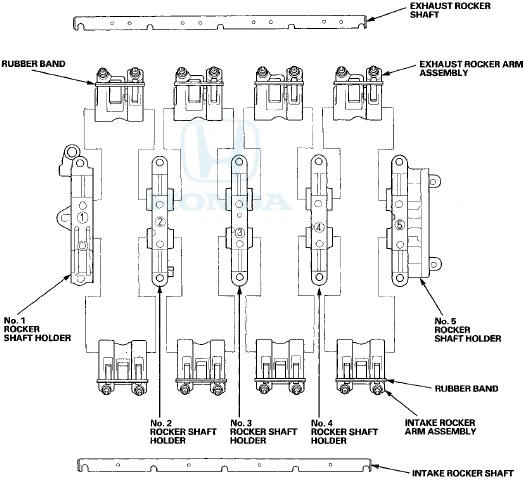 1 Remove the cam chain (see page 6-62). 2. Loosen the rocker arm adjusting screws (A). 3. Remove the camshaft holder bolts. To prevent damaging the camshafts, loosen the bolts, in sequence, tw ...
1. Remove the rocker arm assembly (see page 6-81). 2. Disassemble the rocker arm assembly (see page 6-82). 3. Measure the diameter of the shaft at the first rocker location. 4. Zero the gau ...
See also:
Changing the Engine Oil and Filter
Always change the oil and filter according to the maintenance messages shown on the information display. The oil and filter collect contaminants that can damage your engine if they are not r ...
Taking Care of the Unexpected
This section covers the more common problems that motorists experience with their vehicles. It gives you information about how to safely evaluate the problem and what to do to correct it. If ...
Valve, Spring, and Valve Seal Installation
Special Tools Required Stem Seal Driver, 30 mm 07PAD-0010000 Valve Spring Compressor Attachment 07757-PJ1010A 1. Coat the valve stems with new engine oil. Install the valves in the valve guides. ...