Honda Accord: Rocker Arm Assembly Removal
1 Remove the cam chain (see page 6-62).
2. Loosen the rocker arm adjusting screws (A).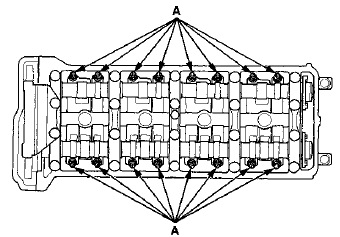 3. Remove the camshaft holder bolts. To prevent damaging the camshafts, loosen the bolts, in sequence, two turns at a time.
NOTE: Bolt

is not on all engines.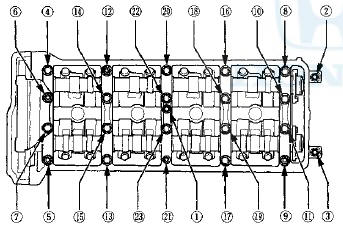 4. Remove cam chain guide B (A), the camshaft holders (B), and the camshafts (C).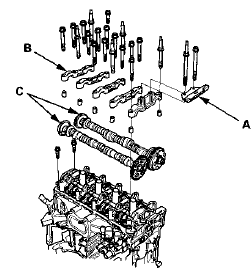 5. Insert the bolts (A) into the rocker shaft holder, then remove the rocker arm assembly (B).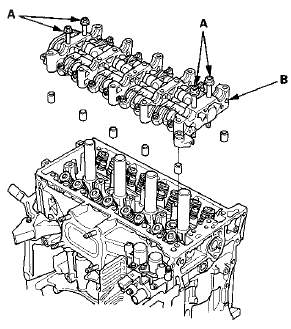 1. Remove the cylinder head (see page 6-76). 2. Inspect the camshaft (see page 6-84). 3. Check the cylinder head for warpage. Measure along the edges, and three ways across the center. - If ...
NOTE: - Identify each part as it is removed so that each item can be reinstalled in its original locations, a Inspect the rocker arm shaft and rocker arms (see page 6-83). - I ...
See also:
Air Cleaner Removal/Installation
1. Disconnect the MAF sensor/IAT sensor connector (A). 2. Remove the harness clamps (B) and the bolts (C). 3. Loosen the band (D), then remove the air cleaner housing (E). 4. Install the par ...
Intermediate Shaft Removal
1. Drain the transmission fluid. Reinstall the drain plug using a new sealing washer: -Manual transmission (see page 13-5) -Automatic transmission (see page 14-192) 2. Remove the right driveshaft ...
Lower Arm A Replacement
1. Raise and support the vehicle (see page 1-13). 2. Remove the rear wheel. 3. Remove the parking brake cable mounting bolt (B). 4. Remove the lower arm A mounting bolts, then remove lower a ...