Honda Accord: Rocker Arm Assembly Removal
1 Remove the cam chain (see page 6-62).
2. Loosen the rocker arm adjusting screws (A).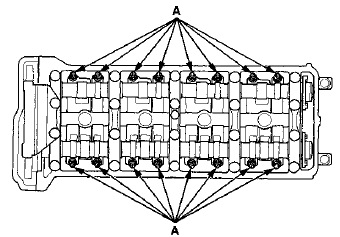 3. Remove the camshaft holder bolts. To prevent damaging the camshafts, loosen the bolts, in sequence, two turns at a time.
NOTE: Bolt

is not on all engines.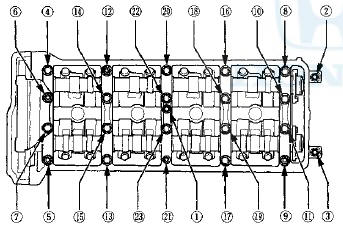 4. Remove cam chain guide B (A), the camshaft holders (B), and the camshafts (C).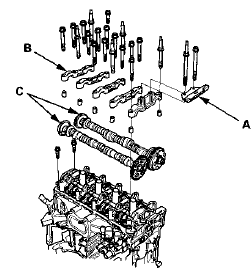 5. Insert the bolts (A) into the rocker shaft holder, then remove the rocker arm assembly (B).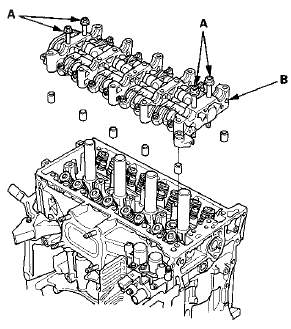 1. Remove the cylinder head (see page 6-76). 2. Inspect the camshaft (see page 6-84). 3. Check the cylinder head for warpage. Measure along the edges, and three ways across the center. - If ...
NOTE: - Identify each part as it is removed so that each item can be reinstalled in its original locations, a Inspect the rocker arm shaft and rocker arms (see page 6-83). - I ...
See also:
Front Turn Signal/Side Marker Light Bulbs
When replacing, use the following bulbs. 1. Turn the steering wheel all the way to the opposite side from the light being replaced. Passenger side: Turn the steering wheel to the left. D ...
Hood Opener Cable Replacement
NOTE: - Put on gloves to protect your hands. - Take care not to scratch the body or the related parts. - Take care not to kink the hood opener cable. 1. Remove these items: - Front grille c ...
Trunk Lid Cushion Replacement
1. Remove the trunk lid cushion (A) by pulling it out to detach the clips. 2. Replace the trunk lid cushion with a new one. 3. Install the trunk lid cushion by pushing on the clip areas until ...