Honda Accord: Rocker Arm Assembly Removal
1 Remove the cam chain (see page 6-62).
2. Loosen the rocker arm adjusting screws (A).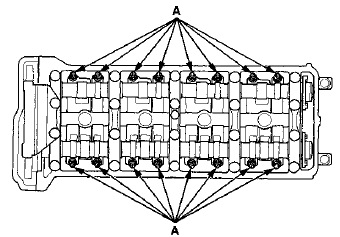 3. Remove the camshaft holder bolts. To prevent damaging the camshafts, loosen the bolts, in sequence, two turns at a time.
NOTE: Bolt

is not on all engines.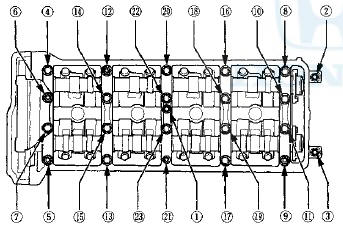 4. Remove cam chain guide B (A), the camshaft holders (B), and the camshafts (C).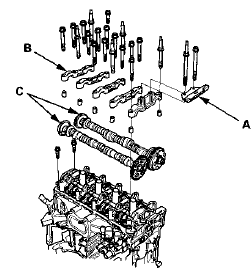 5. Insert the bolts (A) into the rocker shaft holder, then remove the rocker arm assembly (B).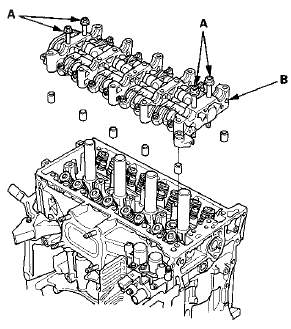 1. Remove the cylinder head (see page 6-76). 2. Inspect the camshaft (see page 6-84). 3. Check the cylinder head for warpage. Measure along the edges, and three ways across the center. - If ...
NOTE: - Identify each part as it is removed so that each item can be reinstalled in its original locations, a Inspect the rocker arm shaft and rocker arms (see page 6-83). - I ...
See also:
Seat Belt Maintenance
For safety, you should check the condition of your seat belts regularly. Pull each belt out fully, and look for frays, cuts, burns, and wear. Check that the latches work smoothly and the belt ...
Accessory Power Socket Trim Removal/Installation
Special Tools Required KTC Trim Tool Set SOJATP2014* *Available through the Honda Tool and Equipment Program; call 888-424-6857 NOTE: - Take care not to scratch the console. - Use the approp ...
Relays
Power Relay Test Special Tools Required Relay Puller 07AAC-000A1A0 Use this chart to identify the type of relay, then do the test listed for it. *1:'08-09 models *2: Carefully remove the relay ...