Honda Accord: Rocker Arm Assembly Removal
1 Remove the cam chain (see page 6-62).
2. Loosen the rocker arm adjusting screws (A).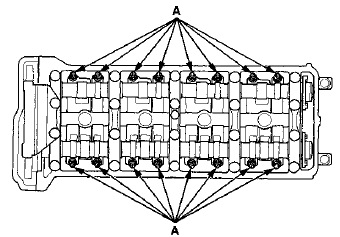 3. Remove the camshaft holder bolts. To prevent damaging the camshafts, loosen the bolts, in sequence, two turns at a time.
NOTE: Bolt

is not on all engines.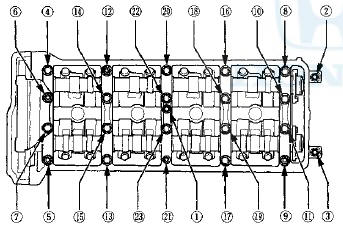 4. Remove cam chain guide B (A), the camshaft holders (B), and the camshafts (C).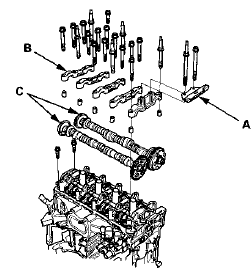 5. Insert the bolts (A) into the rocker shaft holder, then remove the rocker arm assembly (B).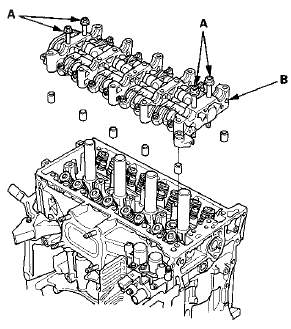 1. Remove the cylinder head (see page 6-76). 2. Inspect the camshaft (see page 6-84). 3. Check the cylinder head for warpage. Measure along the edges, and three ways across the center. - If ...
NOTE: - Identify each part as it is removed so that each item can be reinstalled in its original locations, a Inspect the rocker arm shaft and rocker arms (see page 6-83). - I ...
See also:
Connector to Harness Index
Starter Subharness Engine Wire Harness (M/T) Engine Wire Harness ( A / T ) *1: PZEV *2: Except PZEV CKP Sensor Subharness Shift Solenoid Wire Harness (A/T) Transmission Rang ...
Installing a Child Seat with a Tether
A child seat with a tether can be installed in any seating position in the back seat, using one of the anchorage points shown above. Since a tether can provide additional security to the la ...
Cylinder Head
Component Location Index (cont'd) Engine Compression Inspection NOTE: After this inspection, you must reset the engine control module (ECM)/powertrain control module (PCM), otherwise the ECM ...