Honda Accord: Rocker Arm Assembly Removal
1 Remove the cam chain (see page 6-62).
2. Loosen the rocker arm adjusting screws (A).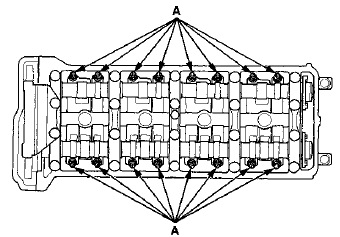 3. Remove the camshaft holder bolts. To prevent damaging the camshafts, loosen the bolts, in sequence, two turns at a time.
NOTE: Bolt

is not on all engines.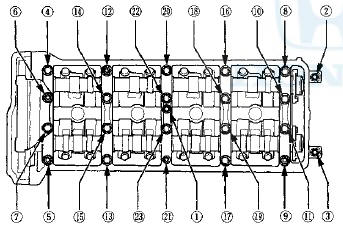 4. Remove cam chain guide B (A), the camshaft holders (B), and the camshafts (C).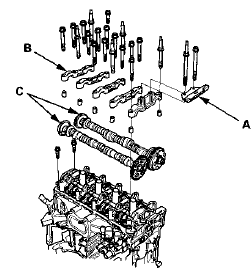 5. Insert the bolts (A) into the rocker shaft holder, then remove the rocker arm assembly (B).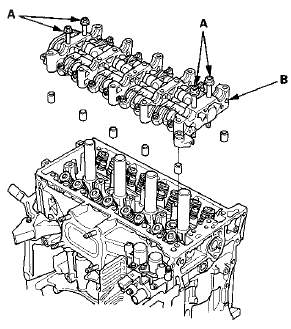 1. Remove the cylinder head (see page 6-76). 2. Inspect the camshaft (see page 6-84). 3. Check the cylinder head for warpage. Measure along the edges, and three ways across the center. - If ...
NOTE: - Identify each part as it is removed so that each item can be reinstalled in its original locations, a Inspect the rocker arm shaft and rocker arms (see page 6-83). - I ...
See also:
Body Electrical
Special Tools General Troubleshooting Information Tips and Precautions Special Tools Required Back Probe Adapter, 17 mm 07TAZ-001020A 1. Check applicable fuses in the appropriate fuse/relay ...
Clutch Fluid
Manual transmission only The fluid level should be between theMINandMAXmarks on the side of the reservoir. If it is not, add brake fluid to bring it up to that level. Use the same fluid spec ...
Mainshaft Inspection
1. Inspect the gear and bearing contact areas for wear and damage, then measure the mainshaft at points A, B, C, D, and E. If any part of the mainshaft is less than the service limit, replace it. ...