Honda Accord: Replacing the High-mount Brake Light Bulb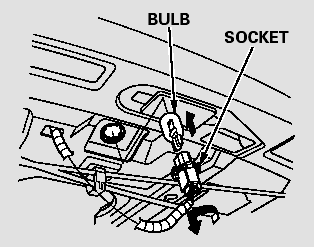 1. Open the trunk, and remove the socket from the light assembly by turning it one-quarter turn counterclockwise.
2. Pull the bulb straight out of its socket. Push the new bulb straight into the socket until it bottoms.
3. Reinstall the socket. Turn it clockwise until it locks. Make sure the new bulb is working.
1. Open the trunk. Remove the screws in the center of each of the two fasteners on the side of the trunk lining. Pull the lining back. 2. Determine which of the three bulbs is burned out: ...
If equipped Your vehicle uses halogen light bulbs. When replacing a bulb, handle it by its plastic case, and protect the glass from contact with your skin or hard objects. If you touch the gl ...
See also:
Carrying Cargo in the Trunk
Distribute cargo evenly on the floor of the trunk, placing the heaviest items on the bottom and as far forward as possible. If you fold down the back seat, tie down items that could be thrown ...
Blower Unit Removal/Installation
1. Remove the glove box (see page 20-174). 2. Remove the passenger's undercover (see page 20-170). 3. Remove the right kick panel (see page 20-107). 4. Remove the dust and pollen filter asse ...
Body Electrical
Special Tools General Troubleshooting Information Tips and Precautions Special Tools Required Back Probe Adapter, 17 mm 07TAZ-001020A 1. Check applicable fuses in the appropriate fuse/relay ...