Honda Accord: Replacing the High-mount Brake Light Bulb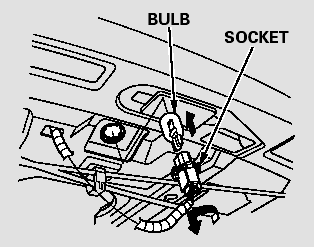 1. Open the trunk, and remove the socket from the light assembly by turning it one-quarter turn counterclockwise.
2. Pull the bulb straight out of its socket. Push the new bulb straight into the socket until it bottoms.
3. Reinstall the socket. Turn it clockwise until it locks. Make sure the new bulb is working.
1. Open the trunk. Remove the screws in the center of each of the two fasteners on the side of the trunk lining. Pull the lining back. 2. Determine which of the three bulbs is burned out: ...
If equipped Your vehicle uses halogen light bulbs. When replacing a bulb, handle it by its plastic case, and protect the glass from contact with your skin or hard objects. If you touch the gl ...
See also:
ATF Feed Pipe Replacement
1. Remove the snap rings (A), the ATF feed pipes (B), and the feed pipe flanges (C) from the end cover (D). NOTE: Replace the end cover, if the 1st clutch ATF feed pipe (E) replacement is require ...
Fuel Cap Adapter Replacement
NOTE: - Put on gloves to protect your hands. - Take care not to scratch the body. 1. Remove the fuel pipe protector (see page 20-294). 2. Remove the fuel cap (A) by turning it counterclockw ...
Audio Unit Removal/Installation
With Navigation SRS components are located in this area. Review the SRS component locations (see page 24-23), and the precautions and procedures (see page 24-25) before doing repairs or service. ...