Honda Accord: Replacing the High-mount Brake Light Bulb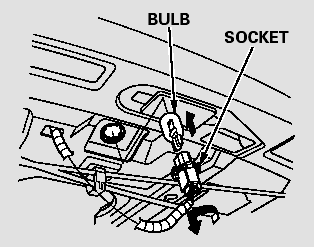 1. Open the trunk, and remove the socket from the light assembly by turning it one-quarter turn counterclockwise.
2. Pull the bulb straight out of its socket. Push the new bulb straight into the socket until it bottoms.
3. Reinstall the socket. Turn it clockwise until it locks. Make sure the new bulb is working.
1. Open the trunk. Remove the screws in the center of each of the two fasteners on the side of the trunk lining. Pull the lining back. 2. Determine which of the three bulbs is burned out: ...
If equipped Your vehicle uses halogen light bulbs. When replacing a bulb, handle it by its plastic case, and protect the glass from contact with your skin or hard objects. If you touch the gl ...
See also:
To Stop Playing a Disc
Press the eject button ( ) to remove the disc. If you eject the disc, but do not remove it from the slot, the system will automatically reload the disc after 10 seconds and begin playing. ...
Washer Tube Replacemen
1. Remove the right front inner fender (see page 20-290). 2. Remove the windshield washer nozzles and clips, then remove the tubes. *1:USA models *2: Canada models 3. Install in the reverse or ...
Parking Brake Inspection and Adjustment
Inspection 1. Pull the parking brake lever (A) with 196 N (20 kgf, 44 Ibf) of force to fully apply the parking brake. The parking brake lever should be locked within the specified number of clic ...