Honda Accord: Replacing the High-mount Brake Light Bulb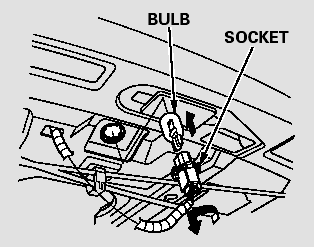 1. Open the trunk, and remove the socket from the light assembly by turning it one-quarter turn counterclockwise.
2. Pull the bulb straight out of its socket. Push the new bulb straight into the socket until it bottoms.
3. Reinstall the socket. Turn it clockwise until it locks. Make sure the new bulb is working.
1. Open the trunk. Remove the screws in the center of each of the two fasteners on the side of the trunk lining. Pull the lining back. 2. Determine which of the three bulbs is burned out: ...
If equipped Your vehicle uses halogen light bulbs. When replacing a bulb, handle it by its plastic case, and protect the glass from contact with your skin or hard objects. If you touch the gl ...