Honda Accord: Brake Hose and Line Inspection
1. Inspect t h e brake hoses for d a m a g e , deterioration, leaks, interference, and twisting.
2. Check the brake lines for damage, rusting, and leaks. Also check for bent brake lines.
3. Check for leaks at hose and line joints and connections, and retighten if necessary.
4. Check the master cylinder and the VSA modulator-control unit for damage and leaks.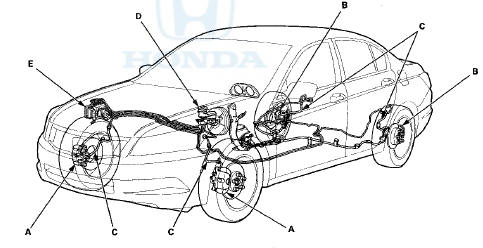 1. Disconnect the brake pedal position switch connector ( A ) . 2. Remove the lock pin (B) and the clevis pin (C). 3. Remove the brake pedal support member (D). 4. Remove the brake pedal bra ...
NOTE; - Before reassembling, cheek that all parts are free of dirt and other foreign particles. - Replace parts with new ones whenever specified to do so. - Do not spill brake fluid on the ve ...
See also:
Front Bumper Removal/Installation
NOTE: - Have an assistant help you when removing and installing the front bumper. - Take care not to scratch the front bumper or the body. - Put on gloves to protect your hands. - When pr ...
Dashboard/Steering Hanger Beam Removal/Installation
Special Tools Required KTC Trim Tool Set SOJATP2014* *Available through the Honda Tool and Equipment Program; call 888-424-6857 SRS components are located in this area. Review the SRS component l ...
iPod Error Messages (Models without navigation system)
If you see an error message on the audio display while playing an iPod, find the solution in the chart to the right. If you cannot clear the error message, take your vehicle to your dealer. ...