Honda Accord: Brake Hose and Line Inspection
1. Inspect t h e brake hoses for d a m a g e , deterioration, leaks, interference, and twisting.
2. Check the brake lines for damage, rusting, and leaks. Also check for bent brake lines.
3. Check for leaks at hose and line joints and connections, and retighten if necessary.
4. Check the master cylinder and the VSA modulator-control unit for damage and leaks.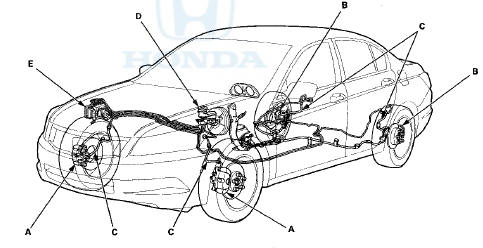 1. Disconnect the brake pedal position switch connector ( A ) . 2. Remove the lock pin (B) and the clevis pin (C). 3. Remove the brake pedal support member (D). 4. Remove the brake pedal bra ...
NOTE; - Before reassembling, cheek that all parts are free of dirt and other foreign particles. - Replace parts with new ones whenever specified to do so. - Do not spill brake fluid on the ve ...
See also:
Component Location Index
'10 model With navigation Without navigation ...
Wiper Arm/Nozzle Adjustment
4-door 1. Turn the wiper switch ON, and then back OFF. 2. W h e n t h e w i p e r a r m s s t o p at t h e p a r k p o s i t i o n , c o n f i rm that t h e y a r e at t h e s t a n d a r d posi ...
Charging System Indicator
Charging System Indicator If the charging system indicator comes on brightly when the engine is running, the battery is not being charged. Immediately turn off all electrical accessories ...