Honda Accord: Rear Door Weatherstrip Replacement
4-door
NOTE; - Put on gloves to protect your hands.
- Take care not to scratch the door.
- Take care not to damage the front upper corner clip (black) and the rear upper corner clips (black) because they are not.available separately.
- Use a clip remover to remove the clips.
1 Remove the door checker mounting bolt (A) at the B-pillar.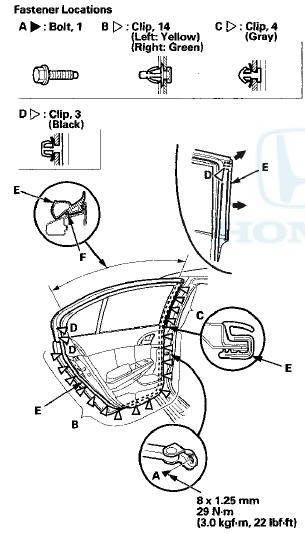 2. Detach the clips (B, C, D), and release the door weatherstrip (E) from the holder (F) of the door sash, then remove the weatherstrip.
3. Install the weatherstrip in the reverse order of removal, and note these items: - If the clips are damaged or stress-whitened, replace them with new ones.
- Push the clips into place securely.
- Make sure the door weatherstrip is installed in the holder securely.
-Apply medium strength liquid thread lock to the door checker mounting bolt before installation.
- Check for water leaks (see step 9 on page 20-57).
Special Tools Required KTC Trim Tool Set SOJATP2014* - Available through the Honda Tool and Equipment Program; call 888-424-6857 4-door N O T E : - If you remove the door outer molding, replace ...
NOTE: Check the door weatherstrip and the glass run channel for damage or deterioration, and replace them if necessary. 1. Place the vehicle on a firm, level surface when adjusting the door glas ...
See also:
Battery Test
A battery can explode if you do not follow the proper procedure, causing seiious injury to anyone nearby. Follow all procedures carefully and keep sparks and open flames away from the battery. R ...
Drive Belt Auto-tensioner Inspection
Special Tools Required Belt Tension Release Tool Snap-on YA9317 or equivalent, commercially available 1. Turn the ignition switch to ON (II), and make sure to turn the A/C switch OFF. Turn the ign ...
Folding Rear Seat
The back of the rear seat folds down, giving you direct access to the trunk. The seat-back is released from inside the trunk. When storing cargo, you can move the rear center shoulder belt o ...