Honda Accord: Rear Door Weatherstrip Replacement
4-door
NOTE; - Put on gloves to protect your hands.
- Take care not to scratch the door.
- Take care not to damage the front upper corner clip (black) and the rear upper corner clips (black) because they are not.available separately.
- Use a clip remover to remove the clips.
1 Remove the door checker mounting bolt (A) at the B-pillar.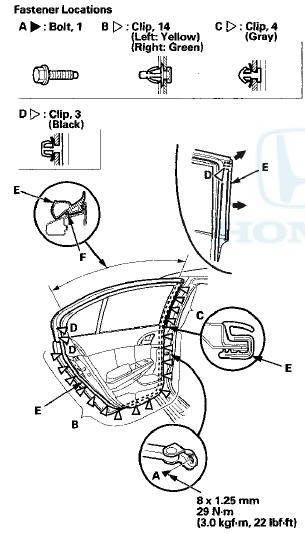 2. Detach the clips (B, C, D), and release the door weatherstrip (E) from the holder (F) of the door sash, then remove the weatherstrip.
3. Install the weatherstrip in the reverse order of removal, and note these items: - If the clips are damaged or stress-whitened, replace them with new ones.
- Push the clips into place securely.
- Make sure the door weatherstrip is installed in the holder securely.
-Apply medium strength liquid thread lock to the door checker mounting bolt before installation.
- Check for water leaks (see step 9 on page 20-57).
Special Tools Required KTC Trim Tool Set SOJATP2014* - Available through the Honda Tool and Equipment Program; call 888-424-6857 4-door N O T E : - If you remove the door outer molding, replace ...
NOTE: Check the door weatherstrip and the glass run channel for damage or deterioration, and replace them if necessary. 1. Place the vehicle on a firm, level surface when adjusting the door glas ...
See also:
Rear Brake Caliper Overhaul
Frequent inhalation of brake pad dust, regardless of material composition, could be hazardous to your health. - Avoid breathing dust particles. - Never use an air hose or brush to clean brake ...
HomeLink Universal Transceiver
All V6 models The HomeLink universal transceiver built into your vehicle can be programmed to operate up to three remotely controlled devices around your home, such as garage doors, lightin ...
Mainshaft Inspection
1. Inspect the gear and bearing contact areas for wear and damage, then measure the mainshaft at points A, B, C, D, and E. If any part of the mainshaft is less than the service limit, replace it. ...