Honda Accord: Power Assist Check
tires and wheels at the correct tire pressure.
1. Check the power steering fluid level (see page 17-28).
2. Start the engine, let it idle, and turn the steering wheel from lock to lock several times to warm up the fluid.
3. Attach a commercially available spring scale (A) to the steering wheel. With the engine idling and the vehicle on a clean, dry floor, pull the scale as shown and read it as soon as the tires begin to turn.
-If the scale reads no more than the specification, the steering gearbox and pump are OK.
-If the scale reads more than the specification, troubleshoot the steering system (see page 17-24).
Initial turning load: 29 N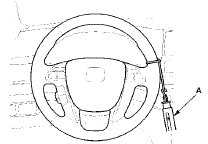 1. Set the front wheels in the straight ahead position. 2. Measure how far you can turn the steering wheel left and right without moving the front wheels. -If the play is within the limit, the ...
See also:
DTC Troubleshooting
DTC B10A2: Driver's MICU (EEPROM) Error NOTE: If you are troubleshooting multiple DTCs, be sure to follow the instructions in B-CAN System Diagnosis Test Mode A (see page 22-134). 1. Clear the D ...
Paint Code
...
Trunk Main Switch*
The trunk main switch disables the trunk release button on the remote transmitter and the trunk release button on the trunk lid to protect luggage in the trunk. 1. Make sure the rear seat-bac ...