Honda Accord: Power Assist Check
tires and wheels at the correct tire pressure.
1. Check the power steering fluid level (see page 17-28).
2. Start the engine, let it idle, and turn the steering wheel from lock to lock several times to warm up the fluid.
3. Attach a commercially available spring scale (A) to the steering wheel. With the engine idling and the vehicle on a clean, dry floor, pull the scale as shown and read it as soon as the tires begin to turn.
-If the scale reads no more than the specification, the steering gearbox and pump are OK.
-If the scale reads more than the specification, troubleshoot the steering system (see page 17-24).
Initial turning load: 29 N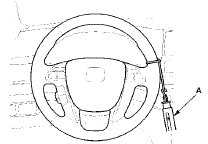 1. Set the front wheels in the straight ahead position. 2. Measure how far you can turn the steering wheel left and right without moving the front wheels. -If the play is within the limit, the ...
See also:
Evaporator Temperature Sensor Test
NOTE: Before testing the sensor, check for HVAC DTCs (see page 2 1 - 9). 1. Remove the evaporator temperature sensor (see page 21-67). 2. Dip the sensor in ice water, and measure the resistan ...
Front Seat Frame Replacement - Passenger's Seat
Special Tools Required KTC Trim Tool Set SOJATP2014* *Available through the Honda Tool and Equipment Program; call 888-424-6857 2-door SRS components are located in this area. Review the SRS c ...
Special Tools
...