Honda Accord: Oil Pan Remowal
1. If the engine is already out of the vehicle, go to step 19.
2. Remove the strut brace (if equipped) (see page 20-306).
3. Do the battery removal procedure (see page 22-92).
4. Remove the air cleaner assembly (see page 11-332).
5. Remove the harness clamps, then remove the battery base (see step 8 on page 5-3).
6. Remove the front engine mount stop (A), then remove the front engine mount bolt (B).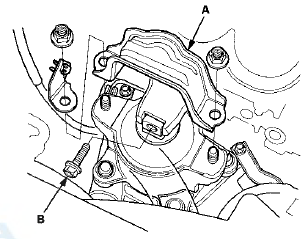 7. Loosen the rear engine mount mounting bolts (A),
M/T model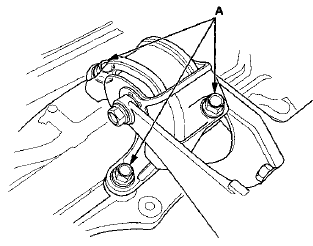 A/T model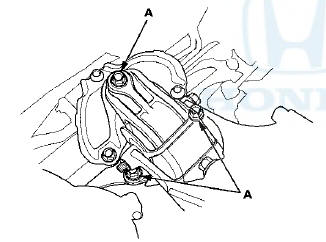 8. Loosen the upper transmission mount bracket mounting bolts (A).
8VS/T model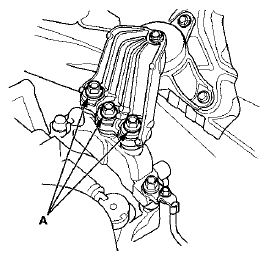 A/T model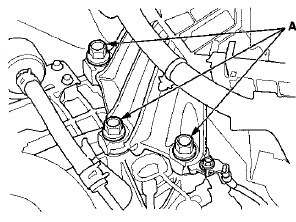 9. Raise the vehicle on the lift.
10. Remove the left front wheel.
11. Remove the splash shield (see step 25 on page 5-5).
12. Drain the engine oil (see page 8-11).
13. Separate the left side knuckle from the lower arm (see step 5 on page 18-21).
14. Remove the left side damper fork (see step 3 on page 18-21).
15. Remove the left side driveshaft (see page 16-4). Coat all precision-finished surface with new engine oil. Tie a plastic bag over the driveshaft end.
16. Remove the nuts securing the lower transmission mount (see step 49 on page 5-9).
17. A/T model: Remove the shift cable bracket.
- Vlehicles with JHM VINs (see step 46 on page 14-200).
- Vehicles with 1 HG VINs (see step 48 on page 14-200).
18. Use a transmission jack to lift the transmission 30-40 mm (1.2-1.6 in).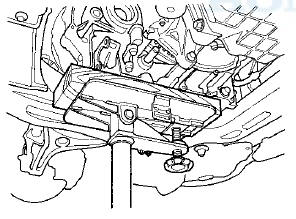 19. Remove the clutch/torque converter cover (A), and remove the two bolts securing the transmission.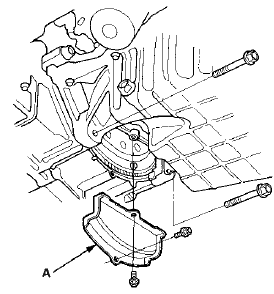 20. Remove the bolts securing the oil pan.
21. Using a flat blade screwdriver, separate the oil pan from the engine block in the places shown.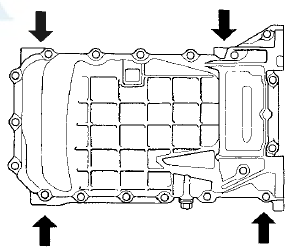 22. Remove the oil pan.
Connecting Rod Bearing Clearance Inspection 1. Remove the oil pump (see page 8-17). 2. Remove the baffle plate (see step 8 on page 7-14). 3. Remove the connecting rod cap and the bearing half. ...
1 Remove the engine/transmission (see page 5-3). 2. Remove the transmission: - Manual transmission (see page 13-7) m Automatic transmission (see page 14-194) 3. M/T model: Remove the flywheel (s ...
See also:
Using the Paddle Shifters in the D position (D-Paddle Shift Mode)
V6 models only When you are driving in theD position, you can shift the transmission up or down manually with the paddle shifters. To shift up or down, use the + (right) or - (left) paddl ...
Brake Hose Replacement
NOTE; - Before reassembling, cheek that all parts are free of dirt and other foreign particles. - Replace parts with new ones whenever specified to do so. - Do not spill brake fluid on the ve ...