Honda Accord: Secondary Shaft Idler Gear Removal and Installation
Special Tools Required
Attachment 42 mm I.D. 07QAD-P0A0100
Removal
Place a spacer (A) on the secondary shaft (B), and set a puller (C) under the idler gear (D), then remove the idler gear.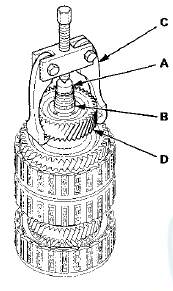 Installation
Install the idler gear (A) in the direction shown on the secondary shaft (B) using the 42 mm attachment and a press.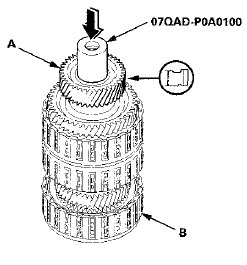 1. Inspect the thrust needle bearings a n d the needle bearings for g a l l i n g and rough movement 2. Inspect the splines for excessive wear and damage. 3. Check the shaft bearing surface fo ...
1. Install the thrust needle bearing (A), the needle bearing (B), 2nd gear (C), the thrust needle bearing (D), the 37 x 58 mm thrust washer (E), and the 2nd clutch (F) on the secondary shaft (G), t ...
See also:
Mirror Housing Cover Replacement
1. Remove the mirror holder (see page 20-63). 2. From the mirror holder opening, release the hooks (A) of the mirror housing cover (B). 3. Release the hooks (A), then remove the mirror housing ...
APP Sensor Signal I n s p e c t i o n
NOTE: - This procedure checks the APP sensor in its fully closed position. In any other position, the APP sensor stores DTCs which are covered in other troubleshooting procedures. - Check for P ...
General Troubleshooting Information
General Operation Refer to the navigation system manual for the navigation system operating procedures. Anti-theft Feature The navigation system and audio unit have a coded theft protection circu ...