Honda Accord: Secondary Shaft Idler Gear Removal and Installation
Special Tools Required
Attachment 42 mm I.D. 07QAD-P0A0100
Removal
Place a spacer (A) on the secondary shaft (B), and set a puller (C) under the idler gear (D), then remove the idler gear.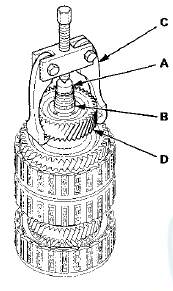 Installation
Install the idler gear (A) in the direction shown on the secondary shaft (B) using the 42 mm attachment and a press.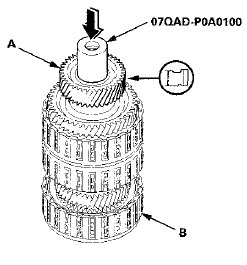 1. Inspect the thrust needle bearings a n d the needle bearings for g a l l i n g and rough movement 2. Inspect the splines for excessive wear and damage. 3. Check the shaft bearing surface fo ...
1. Install the thrust needle bearing (A), the needle bearing (B), 2nd gear (C), the thrust needle bearing (D), the 37 x 58 mm thrust washer (E), and the 2nd clutch (F) on the secondary shaft (G), t ...
See also:
Vehicle Identification Number (VIN)
Your vehicle has a 17-digit vehicle identification number (VIN) used to register your vehicle for warranty purposes, and for licensing and insuring your vehicle. See the image below for the VI ...
Tire Labeling
The tires that came on your vehicle have a number of markings. Those you should be aware of are described below. Tire Size Whenever tires are replaced, they should be replaced with tires o ...
Vanity Mirror
To use the vanity mirror on the back of the sun visor, pull up the cover. The vanity mirror lights come on when you pull up the cover. ...