Honda Accord: Secondary Shaft Idler Gear Removal and Installation
Special Tools Required
Attachment 42 mm I.D. 07QAD-P0A0100
Removal
Place a spacer (A) on the secondary shaft (B), and set a puller (C) under the idler gear (D), then remove the idler gear.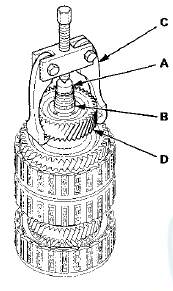 Installation
Install the idler gear (A) in the direction shown on the secondary shaft (B) using the 42 mm attachment and a press.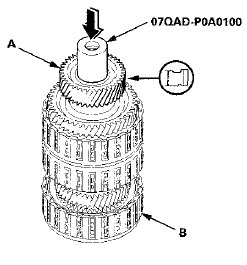 1. Inspect the thrust needle bearings a n d the needle bearings for g a l l i n g and rough movement 2. Inspect the splines for excessive wear and damage. 3. Check the shaft bearing surface fo ...
1. Install the thrust needle bearing (A), the needle bearing (B), 2nd gear (C), the thrust needle bearing (D), the 37 x 58 mm thrust washer (E), and the 2nd clutch (F) on the secondary shaft (G), t ...
See also:
Climate Control Power and Ground Circuit Troubleshooting
1. Check the No. 16 (7.5 A) fuse in the driver's under-dash fuse/ relay box. is the fuse OK? YES-Go to step 2. NO-Replace the fuse, and recheck. If the fuse blows again, check for a short in ...
Starter Performance Test
1. Remove the starter (see page 4-11). 2. Firmly clamp the starter in a vise. 3. Make a connection for this test using the thickest (gauge) wire possible (preferably the same gauge as used on ...