Honda Accord: Low Oil Pressure Indicator Circuit Diagram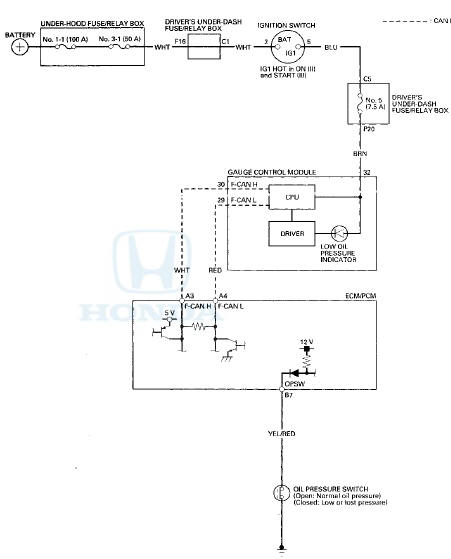 1 Connect the Honda Diagnostic System (HDS) to the data Jink connector (DIG) (see step 2 on page 11-3). 2. Turn the ignition switch to ON (ll). 3. Make sure the HDS communicates with the vehicl ...
See also:
Throttle Body Test
Carbon Accumulation Check NOTE: If the malfunction indicator lamp (MIL) has been reported on, check for diagnostic trouble codes (DTCs). 1. Connect the HDS to the data link connector (DLC) (A) l ...
Rocker Arm Oil Pressure Switch Removal/Installation
All models except PZEV 1. Disconnect the rocker arm oil pressure switch connector (A). 2. Remove the rocker arm oil pressure switch (B). 3. Install the parts in the reverse order of removal wi ...
Side Impact Sensor (First) Replacement
4-Door Removal 1. Do t h e battery t e r m i n a l d i s c o n n e c t i o n procedure (see page 22-91), t h e n w a i t at least 3 m i n u t e s before s t a r t i ng work. 2. Remove t h e B-p ...