Honda Accord: General Troubleshooting Information
Lever-Locked Connector
Disconnecting
To disconnect the connector, pull the lever (A) while pushing the lock tab (B) down, then pull the connector (C).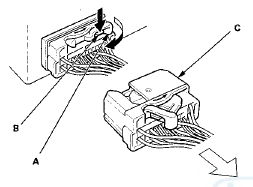 Connecting
To connect the connector, push the connector into the connector sleeve (A). As the connector is pressed in, the lever (B) moves to the locked position.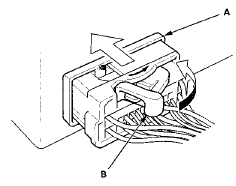 See also:
Protecting Small Children
Child Seat Type Many states, Canadian provinces and territories allow a child one year of age or older who also meets the minimum size and weight requirements to transition from a rear-fa ...
About Your Seat Belts
Seat belts are the single most effective safety device because they keep you connected to the vehicle so that you can take advantage of many built-in safety features. They also help keep you from ...
Brake Booster Replacement
1. Remove the cowl cover (see page 20-278). 2. Remove the strut brace (if equipped) (see page 20-306). 3. Remove the master cylinder (see page 19-26). 4. Disconnect the brake booster vacuum ...