Honda Accord: General Troubleshooting Information
Lever-Locked Connector
Disconnecting
To disconnect the connector, pull the lever (A) while pushing the lock tab (B) down, then pull the connector (C).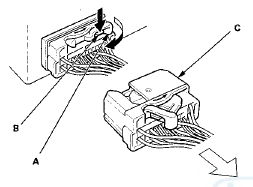 Connecting
To connect the connector, push the connector into the connector sleeve (A). As the connector is pressed in, the lever (B) moves to the locked position.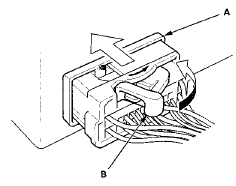 See also:
Engine Oil Lewel Check
1. Park the vehicle on level ground, and start the engine. Hold the engine speed at 3,000 rpm with no load (in N or P (A/T model) or Neutral (M/T model)) until the radiator fan comes on, then tur ...
Damper/Spring Disassembly, Inspection, and Reassembly
Exploded View NOTE: When compressing the damper spring, use a commercially available strut spring compressor (Branick MST-580A or Model 7200, or equivalent) according to the manufacturer's instr ...
Frame Repair Chart
Top View g2 Front floor locating hole 025 (0.98) rear h2 Front floor tunnel frame locating hole 013 (0.51) rear i Rear frame A locating hole 025 (0.98) j Rear floor locating hole 025 (0.98) k1 ...