Honda Accord: General Troubleshooting Information
Lever-Locked Connector
Disconnecting
To disconnect the connector, pull the lever (A) while pushing the lock tab (B) down, then pull the connector (C).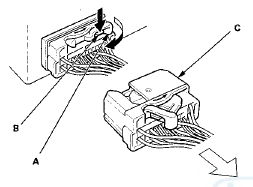 Connecting
To connect the connector, push the connector into the connector sleeve (A). As the connector is pressed in, the lever (B) moves to the locked position.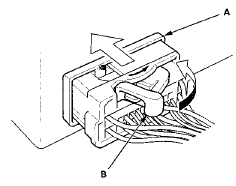 See also:
Engine Installation
Special Tools Required - Universal Lifting Eyelet 07AAK-SNAA120 Engine Hanger Adapter VSB02C000015 Engine Support Hanger, A and Reds AAR-T-1256* Subframe Adapter VSB02C000016 Subframe Alignment P ...
DTC Troubleshooting
DTC P0443: EVAP Canister Purge Valve Circuit Malfunction Special Tools Required Vacuum Pump/Gauge, 0 - 3 0 In.Hg, Snap-on YA4000A or equivalent commercially available NOTE: Before you troubleshoo ...