Honda Accord: Floor Mats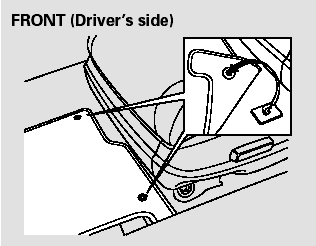 The driver's and right rear passenger's floor mats that came with your vehicle hook over the floor mat anchors. This keeps the floor mats from sliding forward and possibly interfering with the pedals (driver's floor mat) or with the seat weight sensors (right rear floor mat).
If you remove a floor mat, make sure to re-anchor it when you put it back in your vehicle.
If you use a non-Honda floor mat, make sure it fits properly and that it can be used with the floormat anchors. Do not put additional floor mats on top of the anchored mat.
If your seat belts get dirty, use a soft brush with a mixture of mild soap and warm water to clean them. Do not use bleach, dye, or cleaning solvents. Let the belts air dry before you use ...
This filter removes the dust and pollen that is brought in fromthe outside through the heating and cooling system/climate control system. Have your dealer replace this filter when this serv ...
See also:
Clutch Hose Replacement
NOTE: - Replace the clutch hose if it is twisted, cracked, or leaks. - Use fender covers to avoid damaging painted surfaces. - Do not spill brake fluid on the vehicle; it may damage the pain ...
Input Shaft (Mainshaft) Speed Sensor Replacement
1. Remove the nut securing the under-hood fuse/relay box, and swing it out of the way. 2. Remove the intake air duct and the air cleaner housing. 3. Disconnect the input shaft (mainshaft) spee ...