Honda Accord: Cleaning the Seat Belts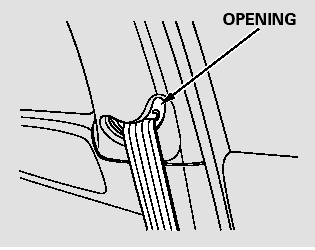 If your seat belts get dirty, use a soft brush with a mixture of mild soap and warm water to clean them. Do not use bleach, dye, or cleaning solvents. Let the belts air dry before you use the vehicle.
Dirt build-up around the openings of the seat belt anchors can cause the belts to retract slowly. Wipe the openings with a clean cloth dampened in mild soap and warm water or isopropyl alcohol.
The license plate has two lights above it. The bulbs should be replaced by your dealer. ...
The driver's and right rear passenger's floor mats that came with your vehicle hook over the floor mat anchors. This keeps the floor mats from sliding forward and possibly interfering with ...
See also:
Changing the Engine Oil and Filter
Always change the oil and filter according to the maintenance messages shown on the information display. The oil and filter collect contaminants that can damage your engine if they are not r ...
Mainshaft Disassembly, Inspection, and Reassembly
1. Inspect the thrust needle bearings and the needle bearings for galling and rough movement 2. Inspect the splines for excessive wear and damage. 3. Check the shaft bearing surface for scorin ...
Mainshaft Assembly Clearance Inspection
1. Support the bearing Inner race with an appropriate sized socket ( A ) , and push down on the mainshaft ( B ) . 2. Measure the clearance between 2nd gear (C) and 3rd gear (D) with a feeler gaug ...