Honda Accord: Driver's Seat Position Sensor Operation Check
Check the driver's seat position sensor after driver's seat position sensor replacement.
1. Make sure the driver's seat is all the way forward position. 2. Make sure the ignition switch is in LOCK (0).
3. Connect the HDS to the data link connector (DLC) (A).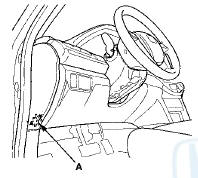 4 . Turn the ignition switch to ON (II).
5. Make sure the HDS communicates with the vehicle and the SRS unit. If it does not communicate, troubleshoot the DLC circuit (see page 11-181).
6. From the HDS Main Menu, select SRS, then PARAMETER INFORMATION. In the PARAMETER INFORMATION Menu, select Buckle Switch, Seat Position Sensor.
7. Using apiece of tape (A), mark the location on the seat's outer cover (B) where the front riser cover meets the seat riser (C). The driver's seat positionsensor should read NEAR.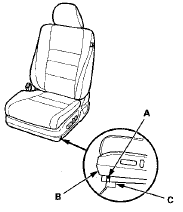 8. Move the seat back in small increments (about 5mm, 0.2 in) until the driver's seat position sensor reads NOT NEAR. The seat should be about 25 mm (1 in) from the front.
NOTE: It takes a few seconds for the HDS to display changes, so wait for about 5 seconds between each movement.
if the driver's seat position sensor data does not work as described above, check the driver's seat position sensor for damage, and replace parts as needed.
9. Turn the ignition switch to LOCK (0).
10. Disconnect the HDS from the DLC.
1. Position the front passenger's seat to the rear most position, and adjust the seat-back to the forward most position. Do not move the seat from this position. 2. Drive the vehicle, accelerate ...
NOTE: The "x" at the end of each DTC denotes a numeric character (0 thru 9), or items with an asterisk (*) (0, 2 thru 9), or an alpha character (A thru F) that you will see on the HDS ...
See also:
Forced Starting of Display
Special Tools Required SCS Service Connector 07PAZ-0010100 1. Turn the ignition switch to LOCK (0). 2. Connect the SCS service connector (A) to the navigation service connector (B) located behin ...
Mainshaft 5th Gear Axial Clearance Inspection
1. Remove the mainshaft transmission housing bearing (seepage 14-270). 2. Install the thrust needle bearing ( A ) , 5th gear ( B ) , the needle bearing (C), the thrust needle bearing (D), the 41 ...
Parts and Fluids Used in MaintenanceService
The use of Honda genuine parts and fluids is recommended when maintaining and servicing your vehicle. Honda genuine parts are manufactured according to the same high quality standards used in Hond ...