Honda Accord: Differential Carrier/Final Driven Gear Replacemen
1. Loosen the bolts in a crisscross pattern in several steps, then remove the bolts and the final driven gear (A) from the differential carrier (B).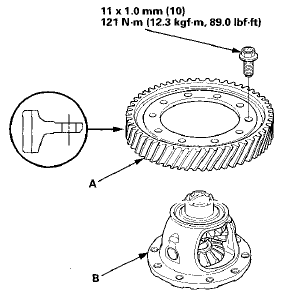 2. Install the final driven gear with the chamfer on the inside diameter facing the carrier. Tighten the bolts in a crisscross pattern in several steps.
1. Place the differential assembly on V-blocks (A), and install the intermediate shaft (B) and the left driveshaft (C). 2. Measure the backlash of both pinion gears (D) with a dial indicator (E) ...
Special Tools Required Driver Handle, 40 mm I.D. 07746-0030100 1. Check the carrier bearings for wear and rough rotation. If they rotate smoothly and their rollers show no signs of wear, the beari ...
See also:
Warm Up TWC Removal/Installation
1. Raise the vehicle on a lift. 2. Remove the secondary H02S (Sensor 2) (see page 11-197). 3. Remove the bolts (A). 4. Remove the WU-TWC bracket (B). 5. Lower the vehicle. 6. Remove th ...
How to Use This Manual
This manual is divided into multiple sections, The first page of each section is marked with a black tab that lines up with its corresponding thumb index tab on this page and the back cover. You ...
DTC Troubleshooting Index
HandsFreeLink Control Unit ...