Honda Accord: Carrier Bearing Replacement
Special Tools Required
Driver Handle, 40 mm I.D. 07746-0030100
1. Check the carrier bearings for wear and rough rotation. If they rotate smoothly and their rollers show no signs of wear, the bearings are OK.
2. Remove the carrier bearings (A) with a commercially available bearing puller (B).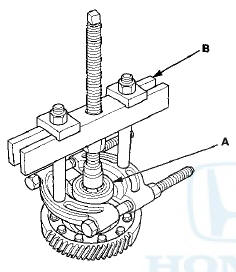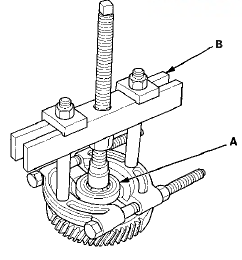 3. Install new bearings (A) using the 40 mm I.D. driver handle (B) and a press (C). Press on each bearing until it bottoms. There should be no clearance between the bearings and the differential carrier.
NOTE: Place the seal part (D) of the bearing towards the outside of the differential, then install it.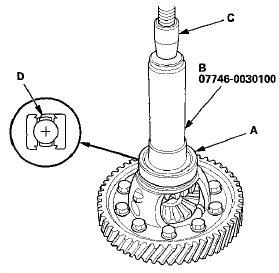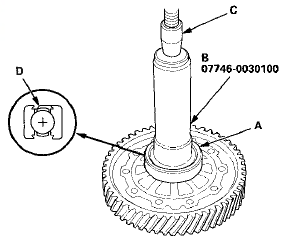 1. Loosen the bolts in a crisscross pattern in several steps, then remove the bolts and the final driven gear (A) from the differential carrier (B). 2. Install the final driven gear with the cham ...
Special Tools Required - Driver Handle, 15 x 135L 07749-0010000 - Oil Seal Driver Attachment 07NAD-P20A100 1. Remove the oil seal (A) from the transmission housing (B). ...
See also:
Rear Brake Caliper Overhaul
Frequent inhalation of brake pad dust, regardless of material composition, could be hazardous to your health. - Avoid breathing dust particles. - Never use an air hose or brush to clean brake ...
Transmission Installation
Special Tools Required - Engine Support Hanger, A and Reds AAR-T1256* - Engine Hanger Adapter VSB02C000015* - Subframe Adapter VSB02C000016* - Subframe Alignment Pin 070AG-SJAA10S *: Are availabl ...
Rear Wheelhouse Gusset Replacement
4-door NOTE: - Put on gloves to protect your hands. - Take care not to scratch the body or the related parts. 1. Remove these items: - Rear seat-back (see page 20-239) - Rear seat side bolst ...