Honda Accord: Carrier Bearing Replacement
Special Tools Required
Driver Handle, 40 mm I.D. 07746-0030100
1. Check the carrier bearings for wear and rough rotation. If they rotate smoothly and their rollers show no signs of wear, the bearings are OK.
2. Remove the carrier bearings (A) with a commercially available bearing puller (B).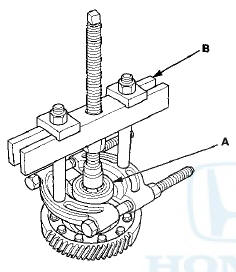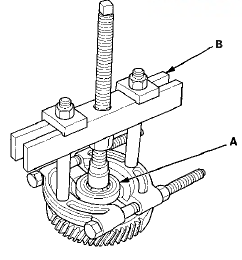 3. Install new bearings (A) using the 40 mm I.D. driver handle (B) and a press (C). Press on each bearing until it bottoms. There should be no clearance between the bearings and the differential carrier.
NOTE: Place the seal part (D) of the bearing towards the outside of the differential, then install it.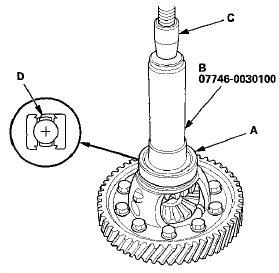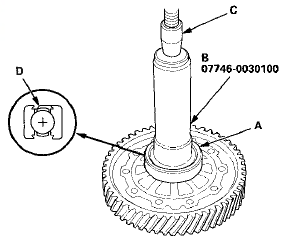 1. Loosen the bolts in a crisscross pattern in several steps, then remove the bolts and the final driven gear (A) from the differential carrier (B). 2. Install the final driven gear with the cham ...
Special Tools Required - Driver Handle, 15 x 135L 07749-0010000 - Oil Seal Driver Attachment 07NAD-P20A100 1. Remove the oil seal (A) from the transmission housing (B). ...
See also:
Tire Pressure Monitoring System (TPMS) - Required Federal Explanation
Each tire, including the spare (if provided), should be checked monthly when cold and inflated to the inflation pressure recommended by the vehicle manufacturer on the vehicle placard or tir ...
Oil Pump Chain Replacement
NOTE: Keep the oil pump chain away from magnetic fields. Removal 1. Remove the drive belt (see page 4-30). 2. Remove the oil pan (see page 7-11). 3. Support the engine with a jack and a wood ...
Jump Starting
Although this seems like a simple procedure, you should take several precautions. A battery can explode if you do not follow the correct procedure, seriously injuring anyone nearby. Ke ...