Honda Accord: Carrier Bearing Replacement
Special Tools Required
Driver Handle, 40 mm I.D. 07746-0030100
1. Check the carrier bearings for wear and rough rotation. If they rotate smoothly and their rollers show no signs of wear, the bearings are OK.
2. Remove the carrier bearings (A) with a commercially available bearing puller (B).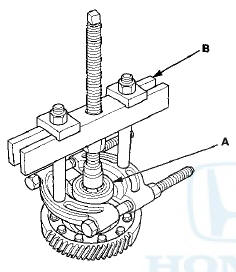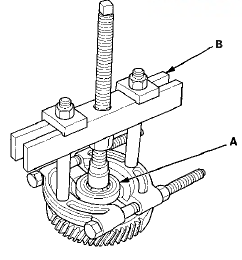 3. Install new bearings (A) using the 40 mm I.D. driver handle (B) and a press (C). Press on each bearing until it bottoms. There should be no clearance between the bearings and the differential carrier.
NOTE: Place the seal part (D) of the bearing towards the outside of the differential, then install it.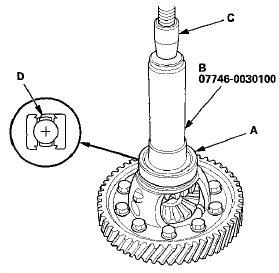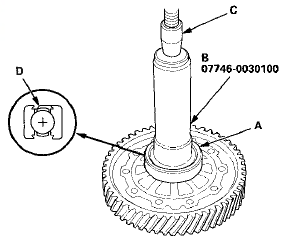 1. Loosen the bolts in a crisscross pattern in several steps, then remove the bolts and the final driven gear (A) from the differential carrier (B). 2. Install the final driven gear with the cham ...
Special Tools Required - Driver Handle, 15 x 135L 07749-0010000 - Oil Seal Driver Attachment 07NAD-P20A100 1. Remove the oil seal (A) from the transmission housing (B). ...
See also:
HazardWarning Button
Push the button between the center vents to turn on the hazard warning lights (four-way flashers). This causes all four outside turn signals and both turn indicators in the instrument pane ...
Fuel Line Inspection
Check the fuel system lines and hoses for damage, leaks, and deteriorationi,. Replace any damaged parts. Check all clamps, and make sure they are properly positioned and tightened. All models ex ...
Starting the Engine
1. Apply the parking brake. 2. In cold weather, turn off all electrical accessories to reduce the drain on the battery. 3. Manual transmission: Press the clutch pedal down all the way. The ST ...