Honda Accord: Danger/Warning/Caution Label Locations (cont'd)
2-door Model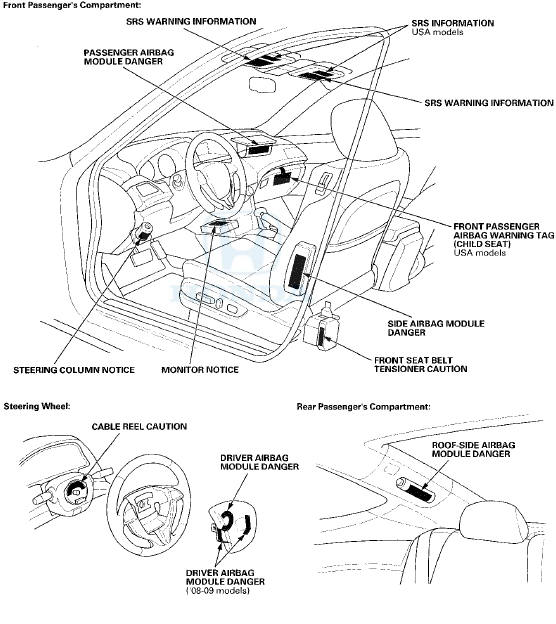 4-door SV9odel: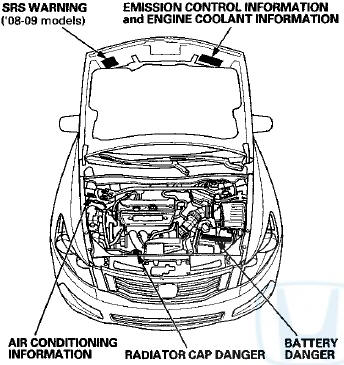 2-door Model:
Emission Group Identification Example: 08 Model COMFORMS TO REGULATIONS: 2008 MY Test Group and Evaporative Family Test Group: Model Year 8: '08 9: '09 A: "10 Manufacturer Subcode ...
See also:
FTP Sensor Replacement
1. Remove the bolt (A), and disconnect the EVAP canister vent shut valve 2P connector (B), the FTP sensor 3P connector (C), and the hoses (D). 2. Remove the bolts (E), and move the EVAP canister ...
Idler Gear/Idler Gear Shaft Replacement
Special Tools Required -Driver Handle, 15 x 135L 07749-0010000 -Attachment, 32 x 35 mm 07746-0010100 1. Remove the snap ring from the idler gear/idler shaft assembly. Do not distort the snap ring. ...
Auto Door Locking
The auto door locking feature has three possible settings: The auto door locking is deactivated all the time. The doors lock whenever you move the shift lever out of the Park (P) position (A ...