Honda Accord: Damper/Spring Disassembly, Inspection, and Reassembly
Exploded View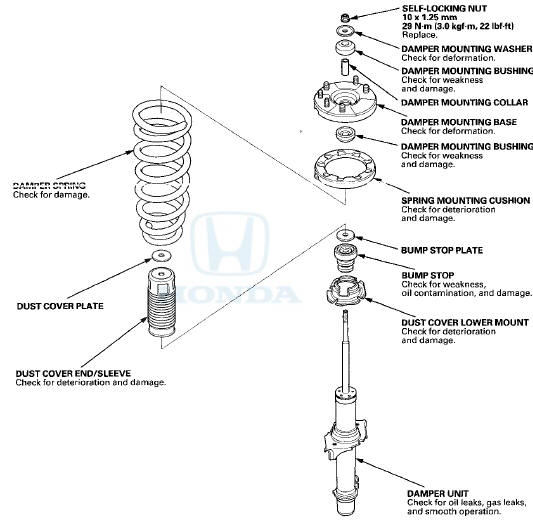 NOTE: When compressing the damper spring, use a commercially available strut spring compressor (Branick MST-580A or Model 7200, or equivalent) according to the manufacturer's instructions.
Disassembly
1. Compress the damper spring, then remove the self-locking nut (A) while holding the damper shaft with a hex wrench (B). Do not compress the damper spring more than necessary to remove the self-locking nut.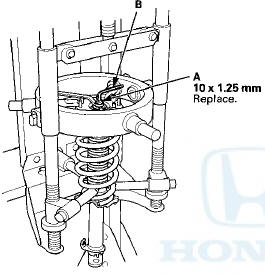 2. Release the pressure from the strut spring compressor, then disassemble the damper as shown in the Exploded View.
Inspection
1.Reassemble all the parts, except for the damper spring.
2. Compress the damper assembly by hand, and check for smooth operation through a full stroke, both compression and extension. The damper should extend smoothly and constantly when compression is released. If it does not, the gas is leaking and the damper should be replaced.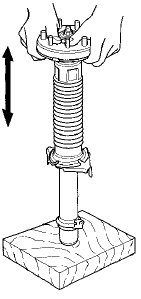 3. Check for oil leaks, abnormal noises, and binding during these tests.
Reassembly
1. Install the spring mounting cushion (A) on the damper mounting base (B) by aligning the tab (C) and notch (D).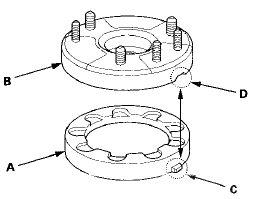 2. Install all the parts except the damper mounting washer and the self-locking nut onto the damper unit by referring to the Exploded View.
3. Compress the damper spring using a strut spring compressor. Do not compress the spring excessively.
4. Align the lower end (A) of the damper spring with the stepped part (B) of the dust cover lower mount and the lower spring seat on the damper unit.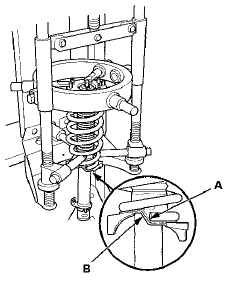 5. Position the tab (A) on the spring mounting cushion facing forward but toward the inside of the vehicle.
Left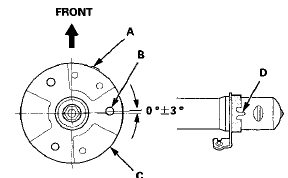 Right
6. Align the angle of the stud (B) on the damper mounting base (C) with the aligning tab (D) on the bottom of the damper unit as shown.
7. Install the damper mounting washer (A) and the new self-locking nut (B).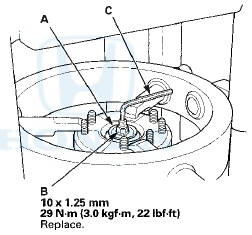 8. Hold the damper shaft with a hex wench (C), and tighten the self-locking nut to the specified torque.
9. Remove the damper/spring from the strut spring compressor.
Removal 1. Raise and support the vehicle (see page 1-13). 2. Remove the front wheel. 3. Remove the wheel speed sensor harness bracket mounting bolt (A). 4. Remove the damper pinch b ...
See also:
Park Lever Stop Inspection and Adjustment
1. Set the park lever in the P position. 2. Measure the distance (A) between the park pawl shaft (B) and the park lever roller pin (C). Standard: 57.7-58.7 mm (2.27-2.31 in) 3. If the measurem ...
Shift Lever Disassembly/Reassembly
Type A Shift Lever NOTE: Make sure not to get any silicone grease on the terminal part of the connectors and switches, especially if you have silicone grease on your hands of gloves. Type B Shi ...