Honda Accord: Accessory Power Sockets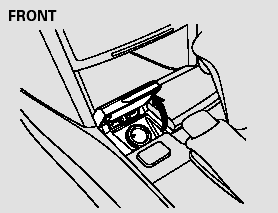 Your vehicle has two accessory power sockets; one is at the front of the center console and the other is in the console compartment.
To use an accessory power socket, the ignition switch must be in the ACCESSORY (I) or ON (II) position.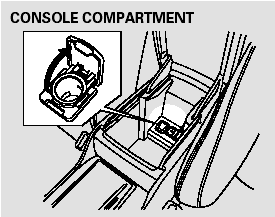 Each socket is intended to supply power for 12 volt DC accessories that are rated 120 watts or less (10 amps).
None of the sockets will power an automotive type cigarette lighter element.
Make sure to put the socket cover back in place to prevent any small foreign objects from getting into the socket.
To open the console compartment, pull up on the lever and lift the armrest. To close, lower the armrest, and push it down until it latches. ...
To use the sun visor, pull it down. When using the sun visor for the side window, remove the support rod from the clip, and swing it out. In this position, the sun visor can be adjusted by m ...
See also:
ODS Unit Replacement
Removal 1. Do t h e battery t e r m i n a l disconnection procedure (see page 22-91), t h e n w a i t at least 3 minutes before s t a r t i ng work. 2. Remove t h e f r o n t passenger's seat (s ...
ATF Pump Inspection
1. Install the ATF pump drive gear (A), the driven gear (B), and the ATF pump driven gear shaft (C) in the main valve body (D). Lubricate all parts with ATF, and install the ATF pump driven gear wi ...
Valve Clearance Adjustment
Special Tools Required . Locknut Wrench 07MAA-PR70120 . Adjuster 07MAA-PR70110 NOTE: Connect the Honda Diagnostic System (HDS) to the data link connector (DLC) and monitor the engine coolant temp ...