Honda Accord: Countershaft Disassembly
NOTE: Refer to the Exploded View in the Countershaft Reassembly, as needed, when removing components pressed onto the countershaft (see page 13-46).
1. Securely clamp the countershaft assembly In a bench vise with wood blocks.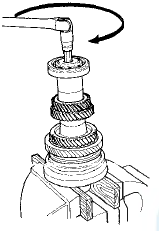 2. Remove the special bolt (left-hand threads).
3. Support the ball bearing (A) on steel blocks (B), then use a press (C) and an attachment (D) to press the countershaft out of the ball bearing.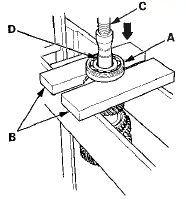 4. Remove the 35 mm shim and the distance collar.
5. Support 4th gear (A) on steel blocks (B), then use a press (C) and an attachment (D) to press the countershaft (E) out of 4th gear and 5th gear.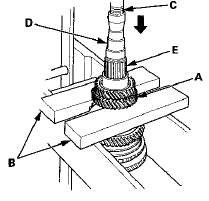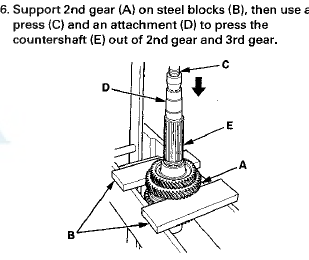 tightened to the specified torque (see page 13-46). 1. Measure the clearance between 1st gear (A) and the 1st gear distance collar (B) with a feeler gauge (C). - If the clearance exceeds the se ...
1. Inspect the gear and bearing contact areas for wear and damage, then measure the countershaft at points A, B, and C. If any part of the countershaft is less than the service limit, replace it. ...
See also:
Differential Thrust Clearance Adjustment
Special Tools Required Driver Handle, 40 mm I.D. 07746-0030100 1 Remove trie left driveshaft side oil seal from the transmission housing (see page 13-70). 2. If you removed the 80 mm shim from t ...
ABS (Anti-lock Brake System)
NOTICE The ABS may not function correctly if you use an incorrect tire type and size. When the ABS indicator comes on while driving, there may be a problem with the system. While normal braki ...
DTC Troubleshooting
DTC P0010: VTC Oil Control Solenoid Valve Malfunction NOTE: Before you troubleshoot record all freeze data and any on-board snapshot and review the general troubleshooting Information (see page 11 ...