Honda Accord: Compass Calibration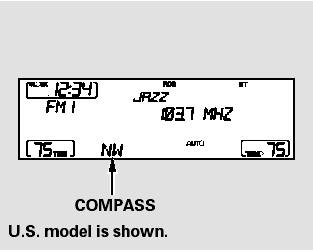 The compass may need to be manually calibrated after exposure to a strong magnetic field. If the compass seems to be continually showing the wrong direction and is not self-calibrating, or the compass display is blinking with the CAL indicator on, do the following procedure.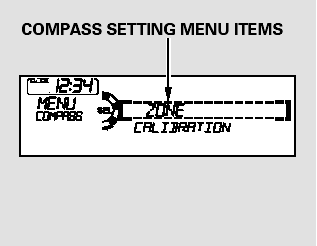 NOTE: Do this procedure in an open area, away from buildings, power lines, and other vehicles.
1. Turn the ignition switch to the ON (II) position.
2. Press and hold the MENU button for about 5 seconds until you hear a beep. The display shows you the compass setting menu items.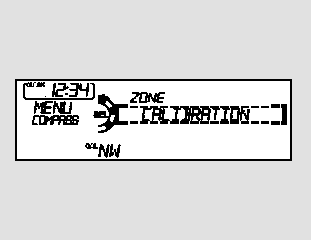 3. Turn the selector knob to select ''CALIBRATION.''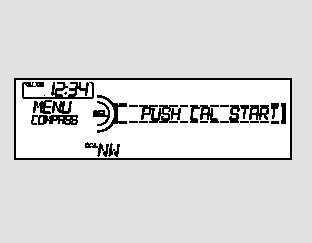 4. Press the selector knob (ENTER) to enter your selection. The display shows you ''PUSH CAL START.''
While setting the compass, pressing the RETURN button will go back to the previous display.
Pressing the MENU button will cancel the compass setting mode.
5. Press the selector knob (ENTER).
The compass display is blinking and the CAL indicator is shown.
6. Drive the vehicle slowly in two complete circles.
When the calibration is successfully completed, the CAL indicator goes off and the compass display will stop blinking and show an actual heading.
The audio system is not related to the compass system. Even if the compass system is calibrating, the display returns to the normal display which you last selected.
Compass operation can be affected by driving near power lines or stations, across bridges, through tunnels, over railroad crossings, past large vehicles, or driving near large objects that c ...
In most areas, there is a variation between magnetic north and true north. Zone selection is required so the compass can compensate for this variation. To check and select the zone, do this: ...
See also:
Oil Check
Wait a few minutes after turning the engine off before you check the oil. 1. Remove the dipstick (orange handle/loop). 2. Wipe off the dipstick with a clean cloth or paper towel. 3. Inser ...
Adjusting the Sound
1. Press the SETTINGS button. 2. Rotate to select Audio Settings, then press . 3. Rotate to select Sound, then press . Rotate to scroll through the following choices: The SVC ...
Reverse Idler Gear Removal and Installation
Removal 1. Remove the bolt (A) securing the reverse idler gear shaft holder (B). 2. Install a 5 x 0.8 mm bolt (C) in the reverse idler gear shaft (D), and pull it to remove the reverse idler gea ...