Honda Accord: Oil Pressure Switch Replacement
1. Disconnect the oil pressure switch connector (A), then remove the oil pressure switch (B).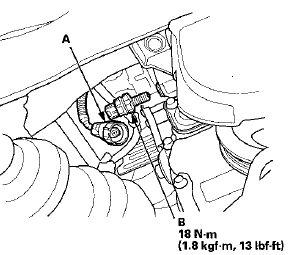 2. Remove any old liquid gasket from the switch and switch mounting hole.
3. Apply a very small amount of liquid gasket to the oil pressure switch threads, then install the oil pressure switch.
NOTE: Using too much liquid gasket may cause liquid gasket to enter the oil passage or the end of the new oil pressure switch.
1 Disconnect the oil pressure switch connector (A) from the oil pressure switch (B). 2. Check for continuity between the oil pressure switch terminal and the engine (ground). There should be con ...
NOTE: If the low oil pressure warning indicator stays on with the engine running, check the engine oil level. If the oil level is correct, do the following test. 1. With the engine stopped, remov ...
See also:
Technical Information
The diagrams in this section give you the dimensions and capacities of your vehicle and the locations of the identification numbers. It also includes information you should know about your v ...
Motor Replacement
NOTE: Put on gloves to protect your hands. 1. Remove the headliner (see page 20-140). 2. Disconnect the connector (A), and remove the screws, then remove the motor (B). 3. Install the motor ...
Important Maintenance Precautions
If you have the required service done but do not reset the display, or reset the display without doing the service, the system will not show the correct maintenance intervals. This can lead ...