Honda Accord: Adjust the Front Seats.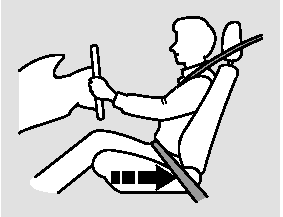 Adjust the driver's seat as far to the rear as possible while allowing you to maintain full control of the vehicle.
Have a front passenger adjust their seat as far to the rear as possible.
If you sit too close to the steering wheel or dashboard, you can be seriously injured by an inflating front airbag, or by striking the steering wheel or dashboard.
The National Highway Traffic Safety Administration and Transport Canada recommend that drivers allow at least 10 inches (25 cm) between the center of the steering wheel and the chest. In addition to adjusting the seat, you can adjust the steering wheel up and down, and in and out.
If you cannot get far enough away from the steering wheel and still reach the controls, we recommend that you investigate whether some type of adaptive equipment may help.

Sitting too close to a front airbag can result in serious injury or death if the front airbags inflate.
Always sit as far back from the front airbags as possible.
On manual adjustable seats
Once a seat is adjusted correctly, rock it back and forth to make sure it is locked in position.
See page for how to adjust a front seat (power adjustment) and page for a manual adjustment.
After everyone has entered the vehicle, be sure the doors are closed and locked. Your vehicle has a door and trunk open indicator on the instrument panel to indicate when a specific door ...
Adjust the driver's seat-back to a comfortable, upright position, leaving ample space between your chest and the airbag cover in the center of the steering wheel. Passengers with adjustable ...
See also:
Display Setup
You can change the brightness or color theme of the audio/information screen. • Changing the Screen Brightness 1. Press and hold the DISP button to go to the Settings screen. 2. Rotate to sel ...
AM/FM Antenna Repair
NOTE: To make an effective repair, the broken section must be no longer than one Inch. 1. Lightly rub the area around the broken section (A) with fine steel wool, then clean it with isopropyl al ...
Driving Position Memory System*
You can store two driver's seat positions with the driving position memory system. When you unlock and open the driver's door with a remote, the seat adjusts automatically to one of the two pre ...