Honda Accord: Sunlight Sensor Replacement
1. Remove the sunlight sensor (A) from the dashboard, then disconnect the connector (B). Be careful not to damage the sensor and the dashboard.
2. Install the sensor in the reverse order of removal.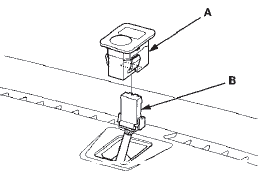 N O T E ; Before testing t h e sensor, check for HVAC DTCs (see page 21-101). 1. Remove the sunlight sensor (see page 21 -186). With automatic lighting sensor Without automatic lighting sensor ...
NOTE: Before testing the motor, check for HVAC DTCs (see page 21-101). 1. Disconnect the 7P connector from the passenger's air mix control motor. Incorrectly applying power and ground to the ...
See also:
Navigation Display Unit Removal/Installation
1 Remove the audio unit (see page 23-114), then remove the center display visor (see page 20-171). 2. Remove the screws and bolts (A), then pull out the navigation display unit (B). 3. Install ...
TPMS (Tire Pressure Monitoring System)
Instead of directly measuring the pressure in each tire, the TPMS on this vehicle monitors and compares the rolling radius and rotational characteristics of each wheel and tire while you are dri ...
Transmission End Crankshaft Oil Seal Installation - In Car.
Special Tools Required Driver Handle, 15 x 135L 07749-0010000 Oil Seal Driver Attachment, 96 mm 07ZAD-PNAA100 1 Remove the transmission: - Manual transmission (see page 13-7) - Automatic transmis ...