Honda Accord: Sunlight Sensor Replacement
1. Remove the sunlight sensor (A) from the dashboard, then disconnect the connector (B). Be careful not to damage the sensor and the dashboard.
2. Install the sensor in the reverse order of removal.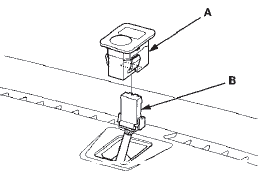 N O T E ; Before testing t h e sensor, check for HVAC DTCs (see page 21-101). 1. Remove the sunlight sensor (see page 21 -186). With automatic lighting sensor Without automatic lighting sensor ...
NOTE: Before testing the motor, check for HVAC DTCs (see page 21-101). 1. Disconnect the 7P connector from the passenger's air mix control motor. Incorrectly applying power and ground to the ...
See also:
Receiving XM Radio Service
If your XM Radio service has expired or you purchased your vehicle from a previous owner, you can listen to a sampling of the broadcasts available on XM Radio. With the ignition switch in th ...
Park Lever Stop Inspection and Adjustment
1. Set the park lever in the P position. 2. Measure the distance (A) between the park pawl shaft (B) and the park lever roller pin (C). Standard: 57.7-58.7 mm (2.27-2.31 in) 3. If the measurem ...
4th and 5th Clutch Reassembly
Special Tools Required Clutch Spring Compressor Set 07LAE PX40000 1. Soak the clutch discs thoroughly in ATF for at least 30 minutes. 2. Install new O-rings (A) on the clutch piston (B). Do not ...