Honda Accord: Sunlight Sensor Replacement
1. Remove the sunlight sensor (A) from the dashboard, then disconnect the connector (B). Be careful not to damage the sensor and the dashboard.
2. Install the sensor in the reverse order of removal.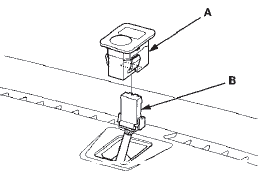 N O T E ; Before testing t h e sensor, check for HVAC DTCs (see page 21-101). 1. Remove the sunlight sensor (see page 21 -186). With automatic lighting sensor Without automatic lighting sensor ...
NOTE: Before testing the motor, check for HVAC DTCs (see page 21-101). 1. Disconnect the 7P connector from the passenger's air mix control motor. Incorrectly applying power and ground to the ...
See also:
System Description
General Description The automatic transmission is a transverse-mounted three-shaft design, implemeting an electronically controlled hydraulic circuit that provides five forward speeds and one in r ...
Braking System
Your vehicle is equipped with disc brakes at all four wheels. A power assist helps reduce the effort needed on the brake pedal. The emergency brake assist system increases the stopping force ...
Differential Thrust Clearance Adjustment
Special Tools Required Driver Handle, 40 mm I.D. 07746-0030100 1 Remove trie left driveshaft side oil seal from the transmission housing (see page 13-70). 2. If you removed the 80 mm shim from t ...