Honda Accord: Accelerator Pedal Module Removal/Installation
1. Disconnect the APP sensor connector (A).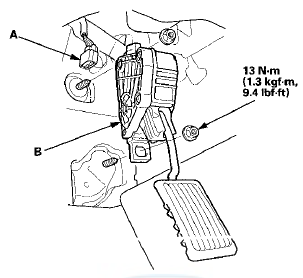 2. Remove the accelerator pedal module (B).
NOTE: The APP sensor is not available separately. Do not disassemble the accelerator pedal module.
3. Install the parts in the reverse order of removal.
NOTE: - This procedure checks the APP sensor in its fully closed position. In any other position, the APP sensor stores DTCs which are covered in other troubleshooting procedures. - Check for P ...
See also:
End Cover Removal
Special Tools Required Mainshaft Holder 07GAB-PF50101 1. Remove the three bolts (D) securing the ATF cooler inlet line brackets, the ATF filter bracket bolts (E), the ATF cooler line banjo bolts ...
Manual Transmission and M/T Differential (cont'd)
...
Cowl Cover Replacement
Special Tools Required KTC Trim Tool Set SOJATP2014* *Available through the Honda Tool and Equipment Program; call 888-424-6857 Cowl Cover Replacement NOTE: - Put on gloves to protect your han ...