Honda Accord: Seventh generation (2003–2007)
Seventh generation (2003–2007)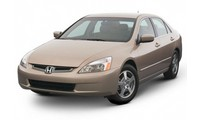 The seventh generation of the Accord was launched in 2002 (2003 model year in North America), and consists of two separate models; one for the Japanese and European markets, and the other for North America. However, both were in fact sold in many other markets, fueled by the popular Cog advertisement for the Accord. he North American Accord grew in size yet again, becoming a vastly different car than its Japanese and European counterpart.
The North American version of the Accord has a different body from its Japanese counterpart. This shape is sold as the Honda Inspire in Japan, and is not sold in Europe. It was discontinued in Japan i ...
See also:
Reverse Shift Fork Clearance Inspection
1. Measure the clearance between the reverse Idler gear (A) and the reverse shift fork (B) with a feeler gauge (C). If the clearance exceeds the service limit, go to step 2. Standard; 0.20-0.59 mm ...
Safety of Larger Children
• Protecting Larger Children The following pages give instructions on how to check proper seat belt fit, what kind of booster seat to use if one is needed, and important precautions for a child ...
Horn Test/Replacement
1. Remove the grille cover; •2-door (see page 20-274) • 4-door (see page 20-274) 2. Disconnect the 1P connector (A) from each horn (B). 3. Test the horn by momentarily connecting L _.t ...