Honda Accord: Seventh generation (2003–2007)
Seventh generation (2003–2007)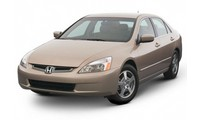 The seventh generation of the Accord was launched in 2002 (2003 model year in North America), and consists of two separate models; one for the Japanese and European markets, and the other for North America. However, both were in fact sold in many other markets, fueled by the popular Cog advertisement for the Accord. he North American Accord grew in size yet again, becoming a vastly different car than its Japanese and European counterpart.
The North American version of the Accord has a different body from its Japanese counterpart. This shape is sold as the Honda Inspire in Japan, and is not sold in Europe. It was discontinued in Japan i ...
See also:
Crankshaft Pulley Removal and Installation
Special Tools Required Handle, 6-25-660L 07JAB-001020B Crankshaft Pulley Holder 07AAB-RJAA100 Socket, 19 mm 07JAA-001020A or equivalent Removal 1 . Remove the front wheels. 2. Remove the splas ...
Exhaust Gas Hazard
Carbon Monoxide Gas The engine exhaust from this vehicle contains carbon monoxide, a colorless, odorless, and highly toxic gas. As long as you properly maintain your vehicle, carbon monoxide ga ...
Climate Control Switch Removal / Installation
With Navigation 1 Remove the audio unit (see page 23-114). 2. Remove the self-tapping screws and the climate control switches (A). If necessary, replace the bulbs (B). 3. Install the switches ...