Honda Accord: Seventh generation (2003–2007)
Seventh generation (2003–2007)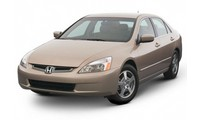 The seventh generation of the Accord was launched in 2002 (2003 model year in North America), and consists of two separate models; one for the Japanese and European markets, and the other for North America. However, both were in fact sold in many other markets, fueled by the popular Cog advertisement for the Accord. he North American Accord grew in size yet again, becoming a vastly different car than its Japanese and European counterpart.
The North American version of the Accord has a different body from its Japanese counterpart. This shape is sold as the Honda Inspire in Japan, and is not sold in Europe. It was discontinued in Japan i ...
See also:
Trunk Lid Release Actuator Test
With Keyless Entry 1. Open the trunk lid. 2. Disconnect 3P connector f r om the trunk lid latch switch/trunk release actuator. 3. Check actuator operation by connecting power to terminal No. ...
Recommended Shift Points
Drive in the highest gear that lets the engine run and accelerate smoothly. This will give you good fuel economy and effective emissions control. The following shift points are recommended: ...
Cam Chain Inspection
Special Tools Required Cam Chain inspection Gauge 07AAJ-RWCA100 1. Remove the front wheels. 2. Remove the splash shield (see step 25 on page 5-5). 3. Remove the cylinder head cover (see page 6 ...