Honda Accord: Expansion Valve Replacement
1. Remove the evaporator core (see page 21-67).
2. Remove the insulator (A) and bolts, then remove the expansion valve (B) and O-rings (C).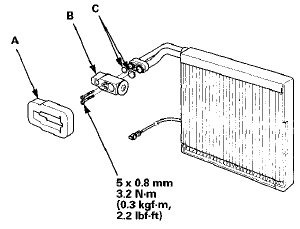 3. Install the expansion valve in the reverse order of removal, and note these items: • Replace the O-rings with new ones at each fitting, and apply a thin coat of refrigerant oil before installing them. Be sure to use the correct O-rings for HFC-134a (R-134a) to avoid leakage.
•immediately after using the oil, reinstall the cap on the container, and seal it to avoid moisture absorption.
• Do not spill the refrigerant oil on the vehicle; it may damage the paint; if the refrigerant oil contacts the paint, wash it off immediately.
• Make sure that there is no air leakage.
• Charge the system (see page 21-81).