Honda Accord: Driver's Seat Power Adjustments
Except LX and EX
See for important safety information and warnings about how to properly position the seats and seatbacks.
The controls for the power adjustable driver's seat are on the outside edge of the seat bottom. You can adjust the seat with the ignition switch in any position. Make all seat adjustments before you start driving.
The front passenger's seat adjusts manually.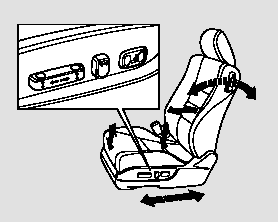 Moves the seat forward and backward.

Moves the front of the seat up or down.

Raises or lowers the seat.

Moves the whole seat up and forward, or down and backward. The front of the seat also tilts up or down at the same time.

Adjusts the seat-back angle forward or backward.

Increases or decreases the lumbar support.
U.S. V6 models, and Canadian EX-L and V6 models with navigation system
The driver's seat includes a memory feature. Two seat positions can be stored in separate memories. You can then select amemorized position by pushing the appropriate memory button. Refer to page for how to memorize and select the seat positions.