Honda Accord: Wear Indicators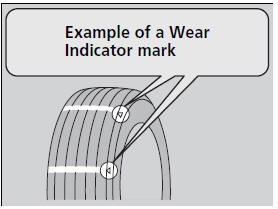 The groove where the wear indicator is located is 1/16 inch (1.6 mm) shallower than elsewhere on the tire. If the tread has worn so that the indicator is exposed, replace the tire.
Worn out tires have poor traction on wet roads.

High speed driving
We recommend that you do not drive faster than the posted speed limits and conditions allow. If you drive at sustained high speeds (over 99 mph or 160 km/h), adjust the cold tire pressures as shown below to avoid excessive heat build up and sudden tire failure.

The tires on your vehicle meet all U.S. Federal Safety Requirements. All tires are also graded for treadwear, traction, and temperature performance according to Department of Transportation (DOT ...
The life of your tires is dependent on many factors, including driving habits, road conditions, vehicle loading, inflation pressure, maintenance history, speed, and environmental conditions (eve ...
See also:
Maintenance
This section explains why it is important to keep your vehicle well maintained and how to follow basic maintenance safety precautions. This section also includes instructions on how to read t ...
Brake and Clutch Fluid
Check the fluid level in the reservoirs monthly. There are up to two reservoirs, depending on the model. They are: Brake fluid reservoir (all models) Clutch fluid reservoir (manual transmiss ...
Dashboard/Steering Hanger Beam Removal/Installation
Special Tools Required KTC Trim Tool Set SOJATP2014* *Available through the Honda Tool and Equipment Program; call 888-424-6857 SRS components are located in this area. Review the SRS component l ...