Honda Accord: Wear Indicators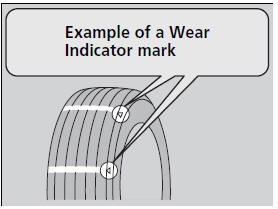 The groove where the wear indicator is located is 1/16 inch (1.6 mm) shallower than elsewhere on the tire. If the tread has worn so that the indicator is exposed, replace the tire.
Worn out tires have poor traction on wet roads.

High speed driving
We recommend that you do not drive faster than the posted speed limits and conditions allow. If you drive at sustained high speeds (over 99 mph or 160 km/h), adjust the cold tire pressures as shown below to avoid excessive heat build up and sudden tire failure.

The tires on your vehicle meet all U.S. Federal Safety Requirements. All tires are also graded for treadwear, traction, and temperature performance according to Department of Transportation (DOT ...
The life of your tires is dependent on many factors, including driving habits, road conditions, vehicle loading, inflation pressure, maintenance history, speed, and environmental conditions (eve ...
See also:
Self-diagnostic Function
NOTE: Before testing, troubleshoot the multiplex integrated control unit first, using B-CAN System Diagnosis Test Mode A (see page 22-134). The gauge control module has a self-diagnostic functio ...
CKP Pulse Plate Replacement
1. Remove the crankshaft from the engine block (see page 7-14). 2. Remove the CKP pulse plate (A) from the crankshaft. 3. Install the CKP pulse plate in the reverse order of removal. ...
Adjusting the Seat Positions
Adjust the driver's seat as far back as possible while allowing you to maintain full control of the vehicle. You should be able to sit upright, well back in the seat and be able to adequatel ...