Honda Accord: Valve, Spring, and Valve Seal Installation
Special Tools Required
Stem Seal Driver, 30 mm 07PAD-0010000
Valve Spring Compressor Attachment 07757-PJ1010A
1. Coat the valve stems with new engine oil. Install the valves in the valve guides.
2. Check that the valves move up and down smoothly.
3. Install the spring seats on the cylinder head.
4. Install the new valve seals (A) using the 5.5 mm side of the stem seal driver, 30 mm (B).
NOTE: The exhaust valve seal (C) has a black spring (D), and the intake valve seal (E) has a white spring (F).
They are not interchangeable.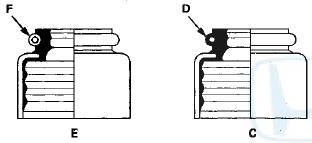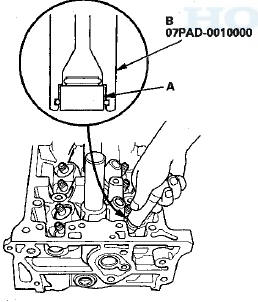 5. Install the valve spring and the spring retainer. Place the end of the valve spring with the closely wound coils toward the cylinder head.
6. Install the valve spring compressor attachment and the valve spring compressor. Compress the spring, and install the valve cotters.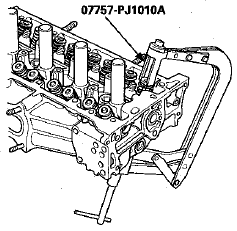 7. Remove the valve spring compressor and the valve spring compressor attachment.
8. Lightly tap the end of each valve stem two or three times with a plastic mallet (A) to ensure proper seating of the valve and the valve cotters. Tap the valve stem only along its axis so you do not bend the stem.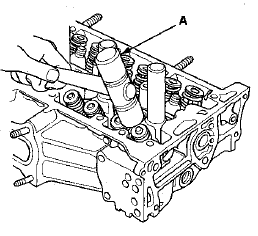 1. Inspect the valve stem-to-guide clearance (see page 6-88). If the valve guides are worn, replace them (see page 6-88) before cutting the valve seats. 2. Renew the valve seats in the cylinder h ...
1. Reassemble the rocker arm assembly (see page 6-82). 2. Clean and dry the No. 5 rocker shaft holder mating surface. 3. Apply liquid gasket P/N 08717-0004, 08718-0003, or 08718-0009 to the cy ...
See also:
Switch Test/Replacement
1. Separate the lumbar support switch cover (A) from the switch (B). 2. Disconnect the 5P connector (C) from the switch. 3. Check for continuity between the terminals in each switch position a ...
Brake Fluid Level Switch Test
NOTE: If both the ABSA/SA indicator and the brake system indicator come on at the same time, check the VSA system for DTCs first (see page 19-48). 1. Disconnect the brake fluid level switch conne ...
Driver's Under-dash Fuse/Relay Box (MICU) Removal and Installation
Special Tools Required Relay Puller 07AAC-000A1A0 USA models NOTE; SRS components are located in this area. Review the SRS component locations 4-door (see page 24-21), 2-door (see page 24-23), an ...