Honda Accord: Valve, Spring, and Valve Seal Installation
Special Tools Required
Stem Seal Driver, 30 mm 07PAD-0010000
Valve Spring Compressor Attachment 07757-PJ1010A
1. Coat the valve stems with new engine oil. Install the valves in the valve guides.
2. Check that the valves move up and down smoothly.
3. Install the spring seats on the cylinder head.
4. Install the new valve seals (A) using the 5.5 mm side of the stem seal driver, 30 mm (B).
NOTE: The exhaust valve seal (C) has a black spring (D), and the intake valve seal (E) has a white spring (F).
They are not interchangeable.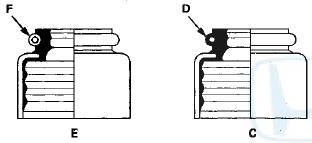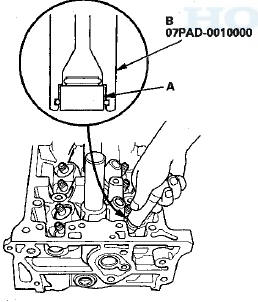 5. Install the valve spring and the spring retainer. Place the end of the valve spring with the closely wound coils toward the cylinder head.
6. Install the valve spring compressor attachment and the valve spring compressor. Compress the spring, and install the valve cotters.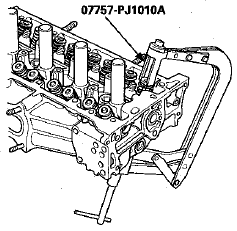 7. Remove the valve spring compressor and the valve spring compressor attachment.
8. Lightly tap the end of each valve stem two or three times with a plastic mallet (A) to ensure proper seating of the valve and the valve cotters. Tap the valve stem only along its axis so you do not bend the stem.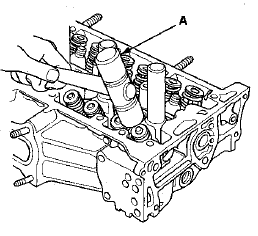 1. Inspect the valve stem-to-guide clearance (see page 6-88). If the valve guides are worn, replace them (see page 6-88) before cutting the valve seats. 2. Renew the valve seats in the cylinder h ...
1. Reassemble the rocker arm assembly (see page 6-82). 2. Clean and dry the No. 5 rocker shaft holder mating surface. 3. Apply liquid gasket P/N 08717-0004, 08718-0003, or 08718-0009 to the cy ...
See also:
Cooling System
Component Location Index Radiator Cap Test 1. Wait until the engine is cool, then carefully remove the radiator cap (A). Wet the radiator cap seal with engine coolant, then install it on a com ...
Additional Safety Precautions
Two people should never use the same seat belt. If they do, they could be very seriously injured in a crash. Do not put any accessories on seat belts. Devices intended to improve occupant comf ...
Fastening a Seat Belt
After adjusting a front seat to the proper position, and while sitting upright and well back in the seat: 2 Adjusting the Seats P. 148 1. Pull the seat belt out slowly. 2. Insert the latch ...