Honda Accord: Rocker Arm Assemblf Installation
1. Reassemble the rocker arm assembly (see page 6-82).
2. Clean and dry the No. 5 rocker shaft holder mating surface.
3. Apply liquid gasket P/N 08717-0004, 08718-0003, or 08718-0009 to the cylinder head mating surface of the No. 5 rocker shaft holder, and to the inside edge of the threaded bolt holes. Install the component within 5 minutes of applying the liquid gasket.
NOTE: - Apply a 3 mm (0.12 in) diameter bead of liquid gasket along the broken line (A).
- If too much time has passed after applying the liquid gasket, remove the old liquid gasket and residue, then reapply new liquid gasket.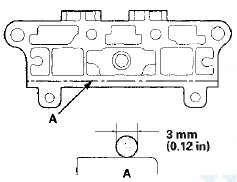 4. Install the lost motion assembly in the cylinder head.
5. Insert the bolts (A) into the rocker shaft holder, then install the rocker arm assembly (B) on the cylinder head.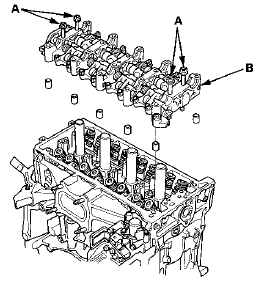 6. Remove the bolts from the rocker shaft holder.
7. Make sure the punch marks on the variable valve timing control (VTC) actuator and the exhaust camshaft sprocket are facing up, then set the camshafts (A) in the holder. Apply new engine oil to the camshaft journals and lobes.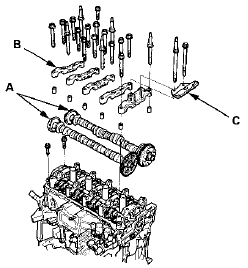 8. Set the camshaft holders (B) and cam chain guide B (C) in place.
9. Tighten the bolts to the specified torque.
NOTE: If the engine does not have bolt


, skip it and continue the torque sequence.
Specified Torque
8x1.25 mm 22 N-m (2.2 kgf-m, 16 Ibfft)
6x1.0 mm 12 N-m (1.2 kgf-m, 8.7 Ibfft)
6x1.0 mm Bolts:

,

,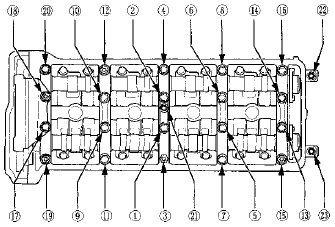 10. Install the cam chain (see page 6-64), then adjust the valve clearance (see page 6-58).
Special Tools Required Stem Seal Driver, 30 mm 07PAD-0010000 Valve Spring Compressor Attachment 07757-PJ1010A 1. Coat the valve stems with new engine oil. Install the valves in the valve guides. ...
1. Install a new coolant separator (A) In the engine block whenever the engine block is replaced. 2. Clean the cylinder head and the engine block surface. 3. Install the new cylinder head gaske ...
See also:
How to Use This Manual
This manual is divided into multiple sections, The first page of each section is marked with a black tab that lines up with its corresponding thumb index tab on this page and the back cover. You ...
Pump Replacement
1. Place a suitable container under the vehicle to catch any spilled fluid. 2. Drain the power steering fluid from the reservoir (see page 17-28). 3. Remove the drive belt (A) from the pump pu ...
Trunk Lid Weatherstrip Replacement
NOTE: 4-door Is shown; 2-door Is similar. 1. Remove the trunk lid weatherstrip (A) by pulling it off. 2. Locate the painted alignment mark (B or C) on the trunk lid weatherstrip. Align the pain ...