Honda Accord: System Description
Overview
The electrical compass shows the azimuth information in 8-directions (N, NE, E, SE, S, SW, W, NW) to the audio-HVAC display unit via the audio unit.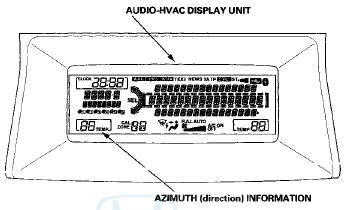 Starting Operation
When the ignition switch is turned to ACCESSORY (1), the electrical compass unit begins to communicate with the audio unit. Then turn the ignition switch to ON (II), the self-test mode begins automatically.
The self-test function checks for the current voltage, non-volatile memory (NVM), and ROM status in the electrical compass unit. If the unit detects a malfunction while in the self-test, it indicates a malfunction by flashing compass information segments (CAL and NW) in the audio-HVAC display unit The electrical compass unit send the azimuth (direction) information to the audio unit The electrical compass unit receive the VSP signal from the gauge control module via the audio unit The azimuth information is fixed while parked.
Self-Calibration
The electrical compass unit has a self-calibration function. It detects and compensates for magnetic anomalies caused by bridges, subways and large steel structures. When the vehicle leaves an area with a strong magnetic interference field (2,400 mG or more), the electrical compass unit automatically begins calibrating. If needed, you can manually calibrate the compass.
Zone Selection
Zone selection is required to compensate for the difference between magnetic North and geographic North. This deviation is referred to as declination, the compass compensates for declination when you select the zone where the vehicle is located.
System Diagram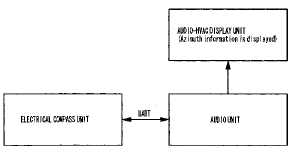 Electrical Compass Unit Connector Inputs and Outputs
Electrical Compass Unit SP Connector

See also:
Valve Body Valve Installation
1. Coat all parts with ATF before assembly. 2. Install the valves and the springs in the sequence shown for the main valve body (see page 14-277), the regulator valve body (see page 14-279), and ...
Heater Unit/Core Replacement
SRS components are located in this area. Review the SRS component locations (see page 24-21) and the precautions and procedures (see page 24-25) before doing repairs or service. 1. Do the batter ...
Frame Repair Chart
Top View g2 Front floor locating hole 025 (0.98) rear h2 Front floor tunnel frame locating hole 013 (0.51) rear i Rear frame A locating hole 025 (0.98) j Rear floor locating hole 025 (0.98) k1 ...