Honda Accord: Symptom Troubleshooting Index
When the vehicle has one of these symptoms, check for a diagnostic trouble code (DTC) with the HDS. If there is no DTC, do the diagnostic procedure for the symptom, in the sequence listed, until you find the cause.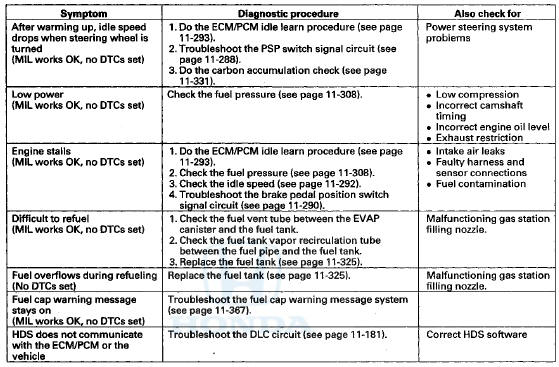 NOTE: The above DTCs are indicated when the PGM-FI system is selected with the HDS. Some automatic transmission DTCs cause the MIL to come on. If the MIL is on and no DTCs are indicated in the PG ...
fuel and Emissions S f stems Diagram 1.AIR FUEL RATIO (A/F) SENSOR (SENSOR 1) 2.SECONDARY HEATED OXYGEN SENSOR (SECONDARY H02S) (SENSOR 2) 3.MANIFOLD ABSOLUTE PRESSURE (MAP) SENSOR 4.ENGINE COO ...
See also:
Countershaft Inspection
1. Inspect the gear and bearing contact areas for wear and damage, then measure the countershaft at points A, B, and C. If any part of the countershaft is less than the service limit, replace it. ...
Fuel Gauge
This shows how much fuel you have. It may show slightly more or less than the actual amount. The needle returns to the bottom after you turn off the ignition. Avoid driving with an extremely ...
Subframe Replacement
Special Tools Required Subframe Alignment Pin 070AG-SJAA10S Front Subframe Torque After removing the subframe mounting bolts, the front subframe middle rubber mount mounting bolts, the front sub ...