Honda Accord: Stabilizer Link Removal/Installation
1. Raise and support the vehicle (see page 1 -13).
2. Remove the front wheel.
3. Remove the self-locking nut (A) and the flange nut (B) while holding the respective joint pin (C) with a hex wrench (D), then remove the stabilizer link (E).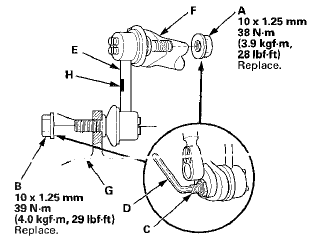 4. Install the stabilizer link on the stabilizer bar (F) and * the lower arm (G) with the joint pins set at the center of their range of movement.
NOTE: The stabilizer link has a paint mark (H). The left stabilizer link is marked with yellow paint, and the right stabilizer link is marked with white paint.
5. Install the new self-locking nut and the new flange nut, and tighten them to the specified torque while holding the respective joint pin with a hex wrench.
6. Clean the mating surfaces of the brake disc and the inside of the wheel, then install the front wheel.
7. Test-drive the vehicle.
8. After 5 minutes of driving, tighten the self-locking nut again to the specified torque.
Special Tools Required - Ball Joint Thread Protector, 14 mm 07AAE-SJAA100 - Ball Joint Remover, 28 mm 07MAC-SL0A202 - Bushing Driver 070AF-TA0A100 - Bushing Receiver Set 070AF-TA0A220 Removal/Ins ...
Special Tools Required - Engine Hanger Adapter VSB02C000015* - Engine Support Hanger, A and Reds AAR-T1256* -Subframe Adapter VSB02C000016* - Subframe Alignment Pin 070AG-SJAA10S *: Available thr ...
See also:
Shift Lock Release
This allows you to move the shift lever out of Park if the normal method of pushing on the brake pedal and pressing the release button does not work. 1. Set the parking brake. 2. Remove the ...
Fasten and Position the Seat Belts
Insert the latch plate into the buckle, then tug on the belt to make sure the belt is securely latched. Check that the belt is not twisted, because a twisted belt can cause serious injuries ...
Rear Bumper Removal/Installation
NOTE: - Have an assistant help you when removing and installing the rear bumper. - Take care not to scratch the rear bumper or the body. - Put on gloves to protect your hands. - When prying ...