Honda Accord: Specifications (4-cylinder models)
Dimensions


Dimensions
Weights


Weights
Air Conditioning


Air Conditioning
Engine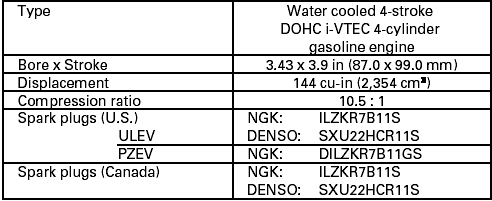 Engine
Seating Capacities


Seating Capacities
Capacities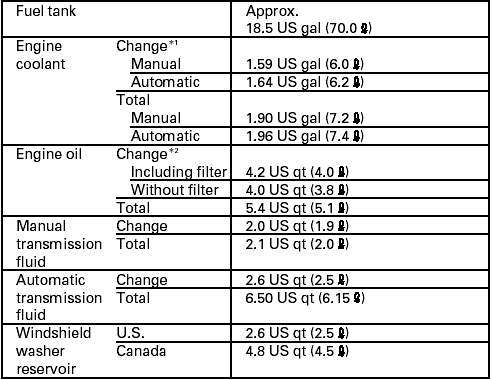 Capacities
* 1: Including the coolant in the reserve tank and that remaining in the engine
Reserve tank capacity: 0.180 US gal (0.68 l)
* 2: Excluding the oil remaining in the engine
Lights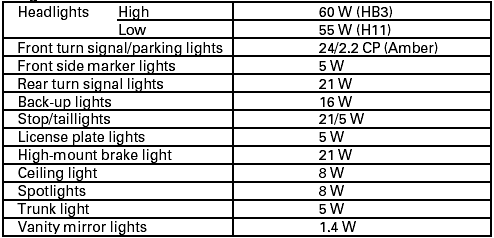 Lights
Battery


Battery
*: PZEV engine model, and Canadian models
Fuses


Fuses
Tires


Tires
Alignment


Alignment
Your vehicle has several identifying numbers in various places. The vehicle identification number (VIN) is the 17-digit number your dealer uses to register your vehicle for warranty purpose ...
Dimensions Dimensions Weights Weights Air Conditioning Air Conditioning Engine Engine *: Manual transmission Seating Capacities Seating Capacities Capacities Capacities *1 : ...
See also:
Oil Pump Chain inspection
1. Remove the oil pan (see page 7-11). 2. Measure the oil pump chain auto-tensioner rod length. If the length is over the service limit, replace the oil pump chain (see page 8-25). Oil Pump Chai ...
Pump Pressure Test w i th T/N 07406-0010001
Special Tools Required -Pump Joint Adapter 07RAK-S040111 or P/S Joint Adapter (pump) 07RAK-S040110 -Hose Joint Adapter 07RAK-S040122 -P/S Pressure Gauge 07406-0010001 Check the fluid pressure as ...