Honda Accord: Specifications (4-cylinder models)
Dimensions


Dimensions
Weights


Weights
Air Conditioning


Air Conditioning
Engine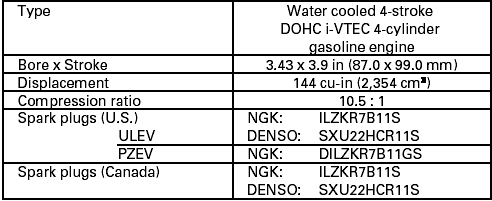 Engine
Seating Capacities


Seating Capacities
Capacities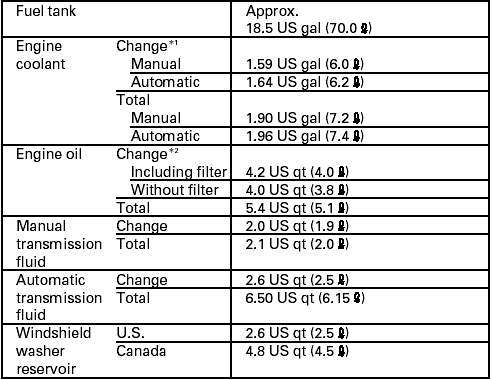 Capacities
* 1: Including the coolant in the reserve tank and that remaining in the engine
Reserve tank capacity: 0.180 US gal (0.68 l)
* 2: Excluding the oil remaining in the engine
Lights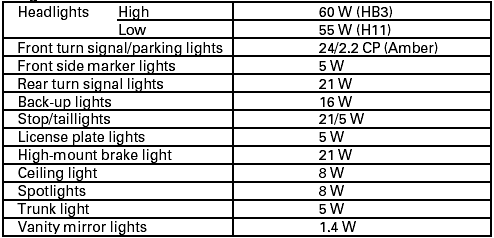 Lights
Battery


Battery
*: PZEV engine model, and Canadian models
Fuses


Fuses
Tires


Tires
Alignment


Alignment
Your vehicle has several identifying numbers in various places. The vehicle identification number (VIN) is the 17-digit number your dealer uses to register your vehicle for warranty purpose ...
Dimensions Dimensions Weights Weights Air Conditioning Air Conditioning Engine Engine *: Manual transmission Seating Capacities Seating Capacities Capacities Capacities *1 : ...
See also:
Console Compartment
To open the console compartment, pull up on the lever and lift the armrest. To close, lower the armrest, and push it down until it latches. ...
Synchro Ring and Gear Inspection
1. Inspect the synchro rings for scoring, cracks, and damage (A). Example of synchro ring teeth 2. Inspect the inside of each synchro ring (B) for wear. Inspect the ...
All ChildrenMust Be Restrained
Each year, many children are injured or killed in vehicle crashes because they are either unrestrained or not properly restrained. In fact, traffic collisions are the number one cause of dea ...