Honda Accord: Specifications (4-cylinder models)
Dimensions


Dimensions
Weights


Weights
Air Conditioning


Air Conditioning
Engine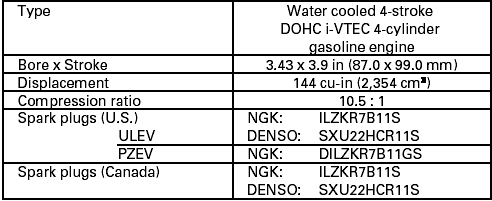 Engine
Seating Capacities


Seating Capacities
Capacities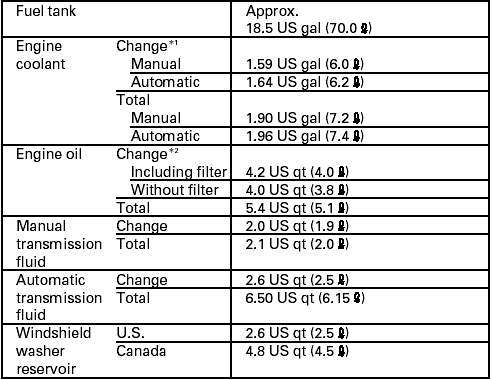 Capacities
* 1: Including the coolant in the reserve tank and that remaining in the engine
Reserve tank capacity: 0.180 US gal (0.68 l)
* 2: Excluding the oil remaining in the engine
Lights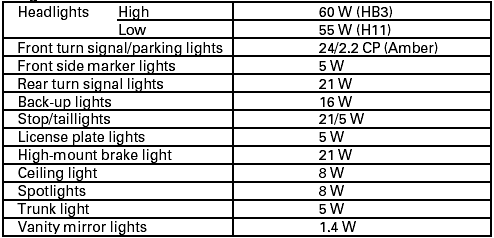 Lights
Battery


Battery
*: PZEV engine model, and Canadian models
Fuses


Fuses
Tires


Tires
Alignment


Alignment
Your vehicle has several identifying numbers in various places. The vehicle identification number (VIN) is the 17-digit number your dealer uses to register your vehicle for warranty purpose ...
Dimensions Dimensions Weights Weights Air Conditioning Air Conditioning Engine Engine *: Manual transmission Seating Capacities Seating Capacities Capacities Capacities *1 : ...
See also:
Drive Belt Inspection
1. Inspect the belt for cracks or damage. If the belt is cracked or damaged, replace it (see page 4-30). 2. Check the position of the auto-tensioner indicator's pointer (A) is within the standard ...
Fan Controls
Component Location Index Symptom Troubleshooting Index '08-09 models 10 model Circuit Diagram '08-09 models '10 model Radiator Fan Circuit Troubleshooting '08-09 models 1 ...
Motor Replacement
NOTE: Put on gloves to protect your hands. 1. Remove the headliner (see page 20-140). 2. Disconnect the connector (A), and remove the screws, then remove the motor (B). 3. Install the motor ...