Honda Accord: Specifications (4-cylinder models)
Dimensions


Dimensions
Weights


Weights
Air Conditioning


Air Conditioning
Engine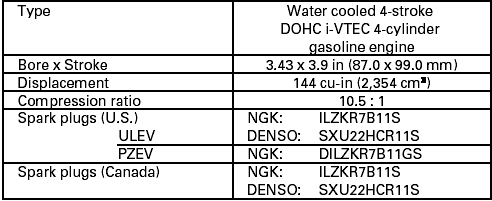 Engine
Seating Capacities


Seating Capacities
Capacities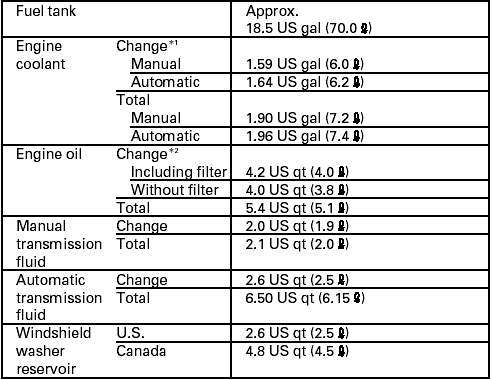 Capacities
* 1: Including the coolant in the reserve tank and that remaining in the engine
Reserve tank capacity: 0.180 US gal (0.68 l)
* 2: Excluding the oil remaining in the engine
Lights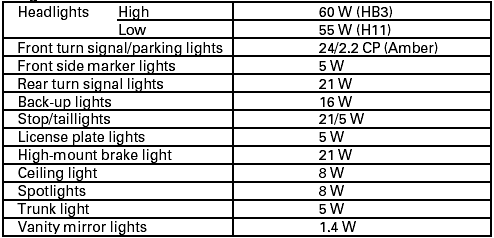 Lights
Battery


Battery
*: PZEV engine model, and Canadian models
Fuses


Fuses
Tires


Tires
Alignment


Alignment
Your vehicle has several identifying numbers in various places. The vehicle identification number (VIN) is the 17-digit number your dealer uses to register your vehicle for warranty purpose ...
Dimensions Dimensions Weights Weights Air Conditioning Air Conditioning Engine Engine *: Manual transmission Seating Capacities Seating Capacities Capacities Capacities *1 : ...
See also:
Technical Information
The diagrams in this section give you the dimensions and capacities of your vehicle and the locations of the identification numbers. It also includes information you should know about your v ...
Brake Fluid Level Switch Test
NOTE: If both the ABSA/SA indicator and the brake system indicator come on at the same time, check the VSA system for DTCs first (see page 19-48). 1. Disconnect the brake fluid level switch conne ...
Adjusting the Sound
BASS, TREBLE, FADER, and BALANCE are each adjustable. You can also adjust the strength of the sound coming from the subwoofer speaker. In addition, you can set the speed-sensitive volume c ...