Honda Accord: Specifications (4-cylinder models)
Dimensions


Dimensions
Weights


Weights
Air Conditioning


Air Conditioning
Engine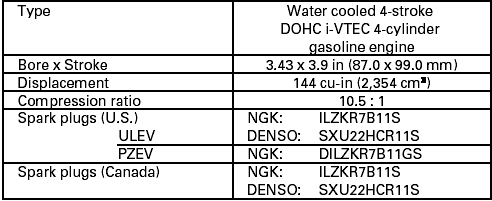 Engine
Seating Capacities


Seating Capacities
Capacities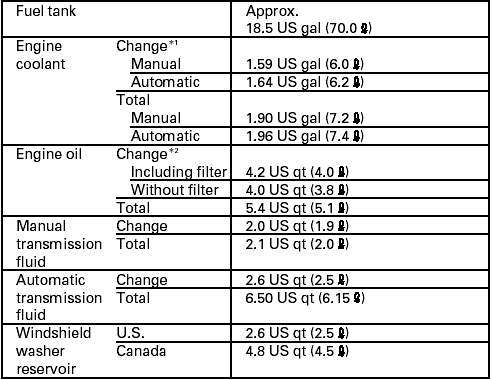 Capacities
* 1: Including the coolant in the reserve tank and that remaining in the engine
Reserve tank capacity: 0.180 US gal (0.68 l)
* 2: Excluding the oil remaining in the engine
Lights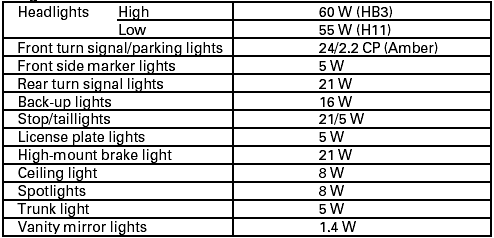 Lights
Battery


Battery
*: PZEV engine model, and Canadian models
Fuses


Fuses
Tires


Tires
Alignment


Alignment
Your vehicle has several identifying numbers in various places. The vehicle identification number (VIN) is the 17-digit number your dealer uses to register your vehicle for warranty purpose ...
Dimensions Dimensions Weights Weights Air Conditioning Air Conditioning Engine Engine *: Manual transmission Seating Capacities Seating Capacities Capacities Capacities *1 : ...
See also:
Mainshaft 5th Gear Axial Clearance Inspection
1. Remove the mainshaft transmission housing bearing (seepage 14-270). 2. Install the thrust needle bearing ( A ) , 5th gear ( B ) , the needle bearing (C), the thrust needle bearing (D), the 41 ...
ATF Temperature Sensor Test/Replacement
1. Raise the vehicle on a lift, or apply the parking brake, block both rear wheels, and raise the front of the vehicle. Make sure it is securely supported. 2. Remove the splash shield. 3. Disc ...