Honda Accord: Specifications (V6 models)
Dimensions

Dimensions
Weights


Weights
Air Conditioning


Air Conditioning
Engine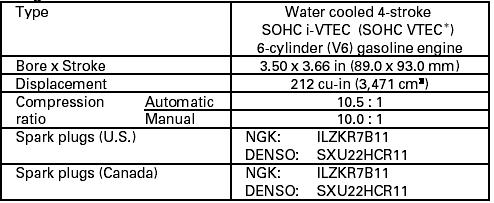 Engine
*: Manual transmission
Seating Capacities


Seating Capacities
Capacities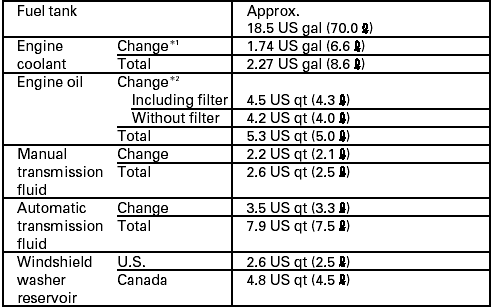 Capacities
*1 : Including the coolant in the reserve tank and that remaining in the engine
Reserve tank capacity: 0.180 US gal (0.68 l)
*2 : Excluding the oil remaining in the engine
Lights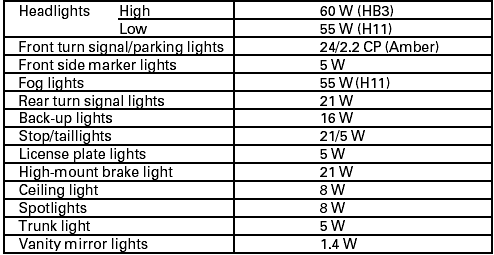 Lights
Battery


Battery
Fuses


Fuses
Tires


Tires
Alignment


Alignment
Dimensions Dimensions Weights Weights Air Conditioning Air Conditioning Engine Engine Seating Capacities Seating Capacities Capacities Capacities * 1: Including the coolant in ...
The tires on your vehicle meet all U.S. Federal Safety Requirements. All tires are also graded for treadwear, traction, and temperature performance according to Department of Transportation ...
See also:
Intake Manifold Removal and Installation
Exploded View Removal 1. Do the battery removal procedure (see page 22-92). 2. Remove the front grille cover: Р'В© 2-door (see page 20-274) Р'В© 4-door (see page 20-274) 3. Remove the water ...
Vehicle Identification Number
Manufacturer, Make, and Type of Vehicle 1HG: Honda of America Mfg., Inc. Honda passenger vehicle JHM: Honda Motor Co., Ltd. Honda passenger vehicle Line, Body, and Engine Type CP2: Accord/ ...
Cylinder Head Installation
1. Install a new coolant separator (A) In the engine block whenever the engine block is replaced. 2. Clean the cylinder head and the engine block surface. 3. Install the new cylinder head gaske ...