Honda Accord: Specifications (V6 models)
Dimensions

Dimensions
Weights


Weights
Air Conditioning


Air Conditioning
Engine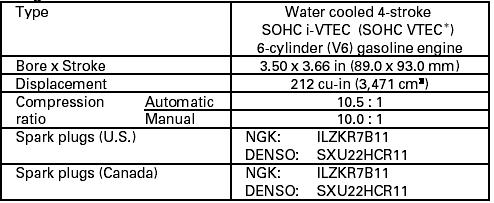 Engine
*: Manual transmission
Seating Capacities


Seating Capacities
Capacities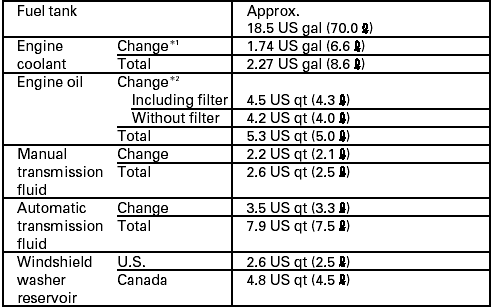 Capacities
*1 : Including the coolant in the reserve tank and that remaining in the engine
Reserve tank capacity: 0.180 US gal (0.68 l)
*2 : Excluding the oil remaining in the engine
Lights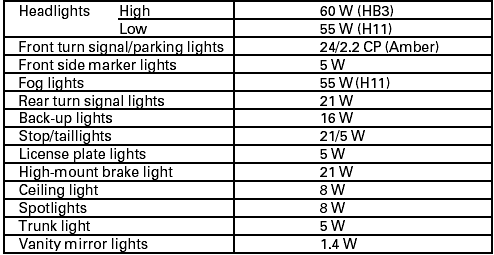 Lights
Battery


Battery
Fuses


Fuses
Tires


Tires
Alignment


Alignment
Dimensions Dimensions Weights Weights Air Conditioning Air Conditioning Engine Engine Seating Capacities Seating Capacities Capacities Capacities * 1: Including the coolant in ...
The tires on your vehicle meet all U.S. Federal Safety Requirements. All tires are also graded for treadwear, traction, and temperature performance according to Department of Transportation ...
See also:
Reverse Lockout
6-speed manual transmission only The manual transmission has a lockout so you cannot accidentally shift from any forward gear to reverse while the vehicle is moving at a certain speed. If you ...
Trunk Lid Dynamic Damper Replacement
2-door NOTE: Take care not to scratch the trunk lid. 1. Remove the cover (A) by releasing the hooks (B). Remove the bolts, and detach the clips, then remove the trunk lid dynamic damper bracke ...
Vehicle Stability Assist (VSA ), aka Electronic Stability Control (ESC), System
The vehicle stability assist (VSA) system helps to stabilize the vehicle during cornering if the vehicle turns more or less than desired. It also assists you in maintaining traction while ac ...