Honda Accord: Specifications (V6 models)
Dimensions

Dimensions
Weights


Weights
Air Conditioning


Air Conditioning
Engine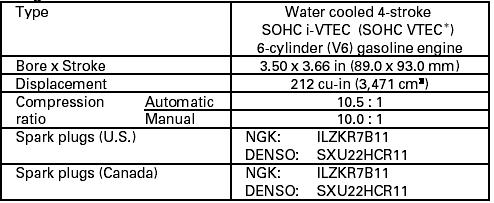 Engine
*: Manual transmission
Seating Capacities


Seating Capacities
Capacities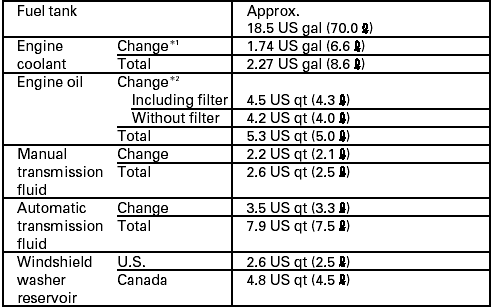 Capacities
*1 : Including the coolant in the reserve tank and that remaining in the engine
Reserve tank capacity: 0.180 US gal (0.68 l)
*2 : Excluding the oil remaining in the engine
Lights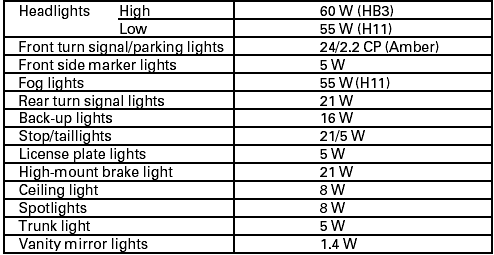 Lights
Battery


Battery
Fuses


Fuses
Tires


Tires
Alignment


Alignment
Dimensions Dimensions Weights Weights Air Conditioning Air Conditioning Engine Engine Seating Capacities Seating Capacities Capacities Capacities * 1: Including the coolant in ...
The tires on your vehicle meet all U.S. Federal Safety Requirements. All tires are also graded for treadwear, traction, and temperature performance according to Department of Transportation ...
See also:
Cylinder Head Installation
1. Install a new coolant separator (A) In the engine block whenever the engine block is replaced. 2. Clean the cylinder head and the engine block surface. 3. Install the new cylinder head gaske ...
DTC Troubleshooting
DTC U0155: Immobilizer-keyless Control Unit Lost Communication With Gauge Control Module NOTE: If you are troubleshooting multiple DTCs, be sure to follow the instructions in B-CAN System Diagnosi ...
Oil Check
Wait a few minutes after turning the engine off before you check the oil. 1. Remove the dipstick (orange handle/loop). 2. Wipe off the dipstick with a clean cloth or paper towel. 3. Inser ...