Honda Accord: Specifications (V6 models)
Dimensions

Dimensions
Weights


Weights
Air Conditioning


Air Conditioning
Engine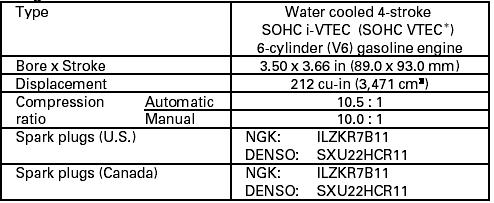 Engine
*: Manual transmission
Seating Capacities


Seating Capacities
Capacities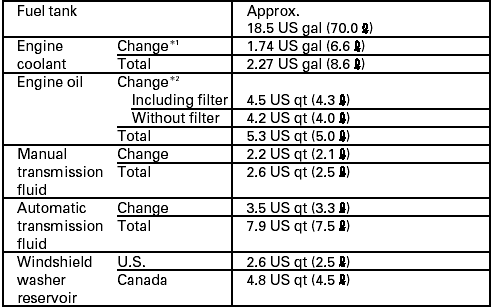 Capacities
*1 : Including the coolant in the reserve tank and that remaining in the engine
Reserve tank capacity: 0.180 US gal (0.68 l)
*2 : Excluding the oil remaining in the engine
Lights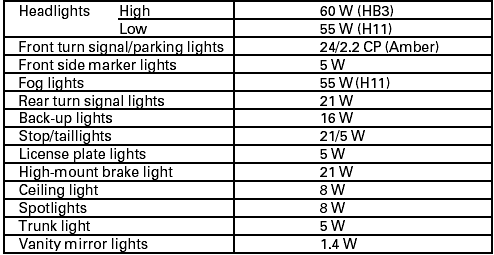 Lights
Battery


Battery
Fuses


Fuses
Tires


Tires
Alignment


Alignment
Dimensions Dimensions Weights Weights Air Conditioning Air Conditioning Engine Engine Seating Capacities Seating Capacities Capacities Capacities * 1: Including the coolant in ...
The tires on your vehicle meet all U.S. Federal Safety Requirements. All tires are also graded for treadwear, traction, and temperature performance according to Department of Transportation ...
See also:
Random Play
To play the tracks on the current disc in random order, select TRACK RANDOM, and press ENTER on the interface selector. As a reminder, you will see RANDOM next to TRACK on the screen. To tur ...
Active Noise Cancellation Microphone Removal/Installation
Front 1. Remove the roof console (see page 20-140), and disconnect the connector (A) from the front active noise cancellation microphone (B). 2. Remove the screws and the front active noise can ...
To Stop Playing a Disc
Press the eject button ( ) to remove the disc. If you eject the disc, but do not remove it from the slot, the system will automatically reload the disc after 10 seconds and begin playing. ...