Honda Accord: Specifications (V6 models)
Dimensions

Dimensions
Weights


Weights
Air Conditioning


Air Conditioning
Engine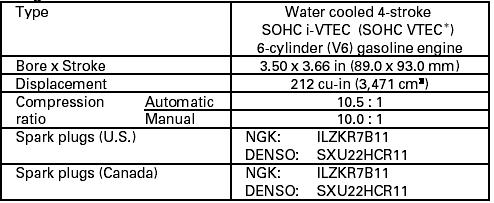 Engine
*: Manual transmission
Seating Capacities


Seating Capacities
Capacities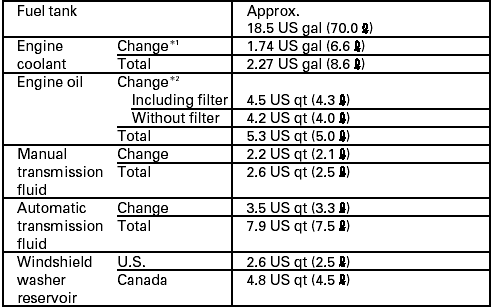 Capacities
*1 : Including the coolant in the reserve tank and that remaining in the engine
Reserve tank capacity: 0.180 US gal (0.68 l)
*2 : Excluding the oil remaining in the engine
Lights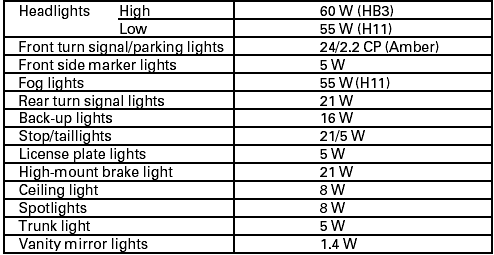 Lights
Battery


Battery
Fuses


Fuses
Tires


Tires
Alignment


Alignment
Dimensions Dimensions Weights Weights Air Conditioning Air Conditioning Engine Engine Seating Capacities Seating Capacities Capacities Capacities * 1: Including the coolant in ...
The tires on your vehicle meet all U.S. Federal Safety Requirements. All tires are also graded for treadwear, traction, and temperature performance according to Department of Transportation ...
See also:
Control Unit Input Test
NOTE: Before testing, troubleshoot the multiplex integrated control unit first, using B-CAN System Diagnosis Test Mode A (see page 22-134), and make sure the lighting system works properly. Driver ...
Engine Oil Gallery Cap Replacement
1. Remove the harness bracket (A), then remove the engine oil gallery cap (B). 2. Clean the O-ring groove and mating surface with the engine oil gallery cap. 3. Apply new engine oil to new O-r ...
F-CAN Circuit Troubleshooting
1. Turn the ignition switch to LOCK (0). 2. Jump the SCS line with the HDS. 3. Disconnect ECM/PCM connector A (49P). 4. Measure the resistance between ECM/PCM connector terminals A3 and A4. ...