Honda Accord: Specifications (V6 models)
Dimensions

Dimensions
Weights


Weights
Air Conditioning


Air Conditioning
Engine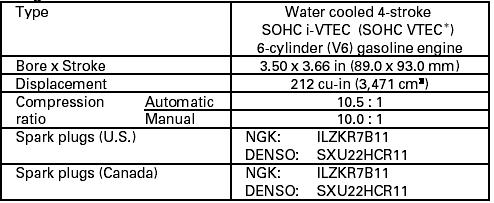 Engine
*: Manual transmission
Seating Capacities


Seating Capacities
Capacities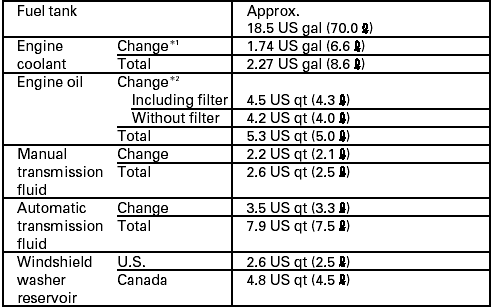 Capacities
*1 : Including the coolant in the reserve tank and that remaining in the engine
Reserve tank capacity: 0.180 US gal (0.68 l)
*2 : Excluding the oil remaining in the engine
Lights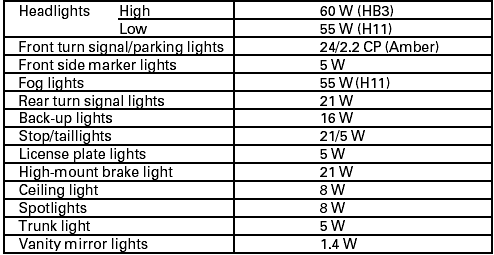 Lights
Battery


Battery
Fuses


Fuses
Tires


Tires
Alignment


Alignment
Dimensions Dimensions Weights Weights Air Conditioning Air Conditioning Engine Engine Seating Capacities Seating Capacities Capacities Capacities * 1: Including the coolant in ...
The tires on your vehicle meet all U.S. Federal Safety Requirements. All tires are also graded for treadwear, traction, and temperature performance according to Department of Transportation ...
See also:
Dashboard/Steering Hanger Beam Removal/Installation
Special Tools Required KTC Trim Tool Set SOJATP2014* *Available through the Honda Tool and Equipment Program; call 888-424-6857 SRS components are located in this area. Review the SRS component l ...
Pump Replacement
1. Place a suitable container under the vehicle to catch any spilled fluid. 2. Drain the power steering fluid from the reservoir (see page 17-28). 3. Remove the drive belt (A) from the pump pu ...
Fog Lights
If equipped Turn the fog lights on and off by turning the switch next to the headlight switch. You can use the fog lights only when the headlights are on low beam. With the light switch in ...