Honda Accord: Receiver/Dryer Desiccant Replacement
NOTE: Install the receiver/dryer as quickly as possible to prevent the system from absorbing moisture from the air.
1. Remove the A/C condenser (see page 21 -77).
2. Remove the bolts from the A/C condenser, then remove the receiver/dryer (A), the bracket (B), and the O-rings (C).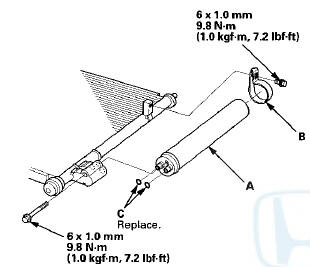 3. Install the receiver/dryer in the reverse order of removal. Replace the O-rings with new ones, and apply a thin coat of refrigerant oil (DENSO ND-OIL 8) before installing them. Be sure to use the correct O-rings for HFC-134a (R-134a) to avoid leakage.
1. Recover the refrigerant with a recovery/recycling charging station (see page 21-80). 2. Remove the front grille cover (see page 20-274). 3. Remove the intake air duct and the water separator ...
1. Open the glove box. Remove the glove box stop on the right side, then let the glove box hang down (see page 20-174). 2. Remove the dust and pollen filter assembly (A) from the blower unit. ...
See also:
Front Seat Slide Motor Replacement
SRS components are located in this area. Review the SRS component locations, 2-door (see page 24-23), 4-door (see page 24-21) and the precautions and procedures (see page 24-25) before doing repair ...
Rear Wheelhouse Gusset Replacement
4-door NOTE: - Put on gloves to protect your hands. - Take care not to scratch the body or the related parts. 1. Remove these items: - Rear seat-back (see page 20-239) - Rear seat side bolst ...
Exhaust Gas Hazard
Carbon Monoxide Gas The engine exhaust from this vehicle contains carbon monoxide, a colorless, odorless, and highly toxic gas. As long as you properly maintain your vehicle, carbon monoxide ga ...