Honda Accord: Receiver/Dryer Desiccant Replacement
NOTE: Install the receiver/dryer as quickly as possible to prevent the system from absorbing moisture from the air.
1. Remove the A/C condenser (see page 21 -77).
2. Remove the bolts from the A/C condenser, then remove the receiver/dryer (A), the bracket (B), and the O-rings (C).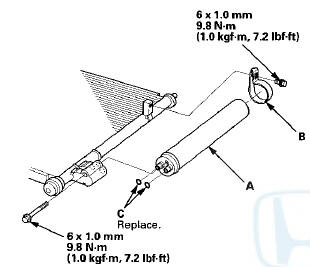 3. Install the receiver/dryer in the reverse order of removal. Replace the O-rings with new ones, and apply a thin coat of refrigerant oil (DENSO ND-OIL 8) before installing them. Be sure to use the correct O-rings for HFC-134a (R-134a) to avoid leakage.
1. Recover the refrigerant with a recovery/recycling charging station (see page 21-80). 2. Remove the front grille cover (see page 20-274). 3. Remove the intake air duct and the water separator ...
1. Open the glove box. Remove the glove box stop on the right side, then let the glove box hang down (see page 20-174). 2. Remove the dust and pollen filter assembly (A) from the blower unit. ...
See also:
Rear Door Outer Molding Replacement
Special Tools Required KTC Trim Tool Set SOJATP2014* - Available through the Honda Tool and Equipment Program; call 888-424-6857 4-door N O T E : - If you remove the door outer molding, replace ...
Instruments and Controls
This section gives information about the controls and displays that contribute to the daily operation of your vehicle. All the essential controls are within easy reach. ...
Forced Starting of Display
Special Tools Required SCS Service Connector 07PAZ-0010100 1. Turn the ignition switch to LOCK (0). 2. Connect the SCS service connector (A) to the navigation service connector (B) located behin ...