Honda Accord: Receiver/Dryer Desiccant Replacement
NOTE: Install the receiver/dryer as quickly as possible to prevent the system from absorbing moisture from the air.
1. Remove the A/C condenser (see page 21 -77).
2. Remove the bolts from the A/C condenser, then remove the receiver/dryer (A), the bracket (B), and the O-rings (C).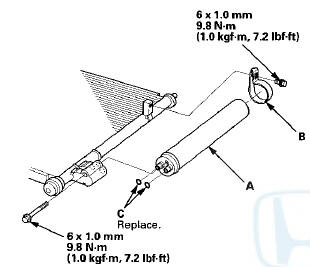 3. Install the receiver/dryer in the reverse order of removal. Replace the O-rings with new ones, and apply a thin coat of refrigerant oil (DENSO ND-OIL 8) before installing them. Be sure to use the correct O-rings for HFC-134a (R-134a) to avoid leakage.
1. Recover the refrigerant with a recovery/recycling charging station (see page 21-80). 2. Remove the front grille cover (see page 20-274). 3. Remove the intake air duct and the water separator ...
1. Open the glove box. Remove the glove box stop on the right side, then let the glove box hang down (see page 20-174). 2. Remove the dust and pollen filter assembly (A) from the blower unit. ...
See also:
Body Electrical
Special Tools General Troubleshooting Information Tips and Precautions Special Tools Required Back Probe Adapter, 17 mm 07TAZ-001020A 1. Check applicable fuses in the appropriate fuse/relay ...
VSA Modulator-Control Unit Removal and Installation
N O T E : - Do not spill brake fluid on the vehicle; it may damage the paint. If brake fluid gets on the paint, wash it off immediately with water. - Be careful not to damage or deform the brake ...