Honda Accord: Fog Lights
If equipped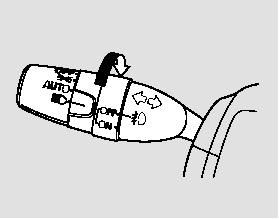 Turn the fog lights on and off by turning the switch next to the headlight switch.
You can use the fog lights only when the headlights are on low beam.
With the light switch in the AUTO position, you can also use the fog lights when the headlights turn on automatically. They will go off when the headlights turn off, or the daytime running lights are on.
With the headlight switch off or in the position, the high beam headlights and the high beam indicator come on with reduced brightness when you turn the ignition switch to the ON (II) po ...
The select/reset knob on the instrument panel controls the brightness of the instrument panel lights. Turn the knob to adjust the brightness with the ignition switch in the ON (II) positio ...
See also:
Cylinder Head Inspection for Warpage
1. Remove the cylinder head (see page 6-76). 2. Inspect the camshaft (see page 6-84). 3. Check the cylinder head for warpage. Measure along the edges, and three ways across the center. - If ...
To Stop Playing Your iPod
To play the radio, press the FM/AM, or button. Press the CD button to switch to the disc mode. Press the AUX button to switch back to the iPod. Disconnecting an iPod You can disconnect the ...
iPod Error Messages (Models with navigation system)
If you see an error message in the center display while playing an iPod, find the solution in the chart to the right. If you cannot clear the error message, take your vehicle to your dealer. ...