Honda Accord: Fog Lights
If equipped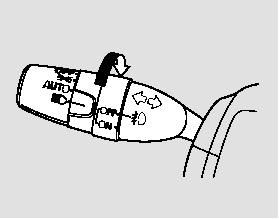 Turn the fog lights on and off by turning the switch next to the headlight switch.
You can use the fog lights only when the headlights are on low beam.
With the light switch in the AUTO position, you can also use the fog lights when the headlights turn on automatically. They will go off when the headlights turn off, or the daytime running lights are on.
With the headlight switch off or in the position, the high beam headlights and the high beam indicator come on with reduced brightness when you turn the ignition switch to the ON (II) po ...
The select/reset knob on the instrument panel controls the brightness of the instrument panel lights. Turn the knob to adjust the brightness with the ignition switch in the ON (II) positio ...
See also:
Rear Window Replacement
NOTE: - Put on gloves to protect your hands. - Wear eye protection while cutting the glass adhesive with a piano wire. - Use seat covers to avoid damaging any surfaces. - Do not damage the ...
Disc Changer Error Messages (Models with navigation system)
The chart on the right explains the error messages you may see in the center display while playing a disc. If you see an error message in the center display while playing a disc, press the ej ...
Oil Pump Chain Replacement
NOTE: Keep the oil pump chain away from magnetic fields. Removal 1. Remove the drive belt (see page 4-30). 2. Remove the oil pan (see page 7-11). 3. Support the engine with a jack and a wood ...