Honda Accord: Fog Lights
If equipped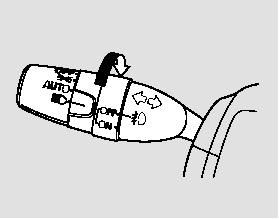 Turn the fog lights on and off by turning the switch next to the headlight switch.
You can use the fog lights only when the headlights are on low beam.
With the light switch in the AUTO position, you can also use the fog lights when the headlights turn on automatically. They will go off when the headlights turn off, or the daytime running lights are on.
With the headlight switch off or in the position, the high beam headlights and the high beam indicator come on with reduced brightness when you turn the ignition switch to the ON (II) po ...
The select/reset knob on the instrument panel controls the brightness of the instrument panel lights. Turn the knob to adjust the brightness with the ignition switch in the ON (II) positio ...
See also:
Cleaning the Seat Belts
If your seat belts get dirty, use a soft brush with a mixture of mild soap and warm water to clean them. Do not use bleach, dye, or cleaning solvents. Let the belts air dry before you use ...
Cf Under Head Cover Mmmmm
1. Remove the strut brace (if equipped) (see page 20-306). 2. Remove the engine cover. 3. Remove the four ignition coils (see page 4-20). 4. Remove the dipstick (A), and the power steering ( ...
HFL Switch Test
1. Remove the driver's airbag (see page 24-211) 2. Remove the steering wheel (see page 17-6). 3. Measure the resistance between terminals No. 3 and No. 4 in each switch position according to the ...