Honda Accord: Fog Lights
If equipped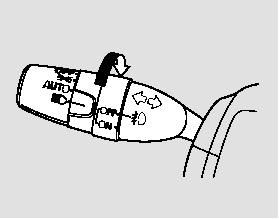 Turn the fog lights on and off by turning the switch next to the headlight switch.
You can use the fog lights only when the headlights are on low beam.
With the light switch in the AUTO position, you can also use the fog lights when the headlights turn on automatically. They will go off when the headlights turn off, or the daytime running lights are on.
With the headlight switch off or in the position, the high beam headlights and the high beam indicator come on with reduced brightness when you turn the ignition switch to the ON (II) po ...
The select/reset knob on the instrument panel controls the brightness of the instrument panel lights. Turn the knob to adjust the brightness with the ignition switch in the ON (II) positio ...
See also:
System Description
The air conditioning (A/C) system removes heat from the passenger compartment by transferring heat from the ambient air to the evaporator. The A/C system refrigerant expands in the evaporator, and ...
Brake Hose and Line Inspection
1. Inspect t h e brake hoses for d a m a g e , deterioration, leaks, interference, and twisting. 2. Check the brake lines for damage, rusting, and leaks. Also check for bent brake lines. 3. ...
Stabilizer Bar Replacement
Special Tools Required - Engine Hanger Adapter VSB02C000015* - Engine Support Hanger, A and Reds AAR-T1256* -Subframe Adapter VSB02C000016* - Subframe Alignment Pin 070AG-SJAA10S *: Available thr ...