Honda Accord: Rear Air Outlet Replacement
NOTE: Take care not to scratch the body.
1_ Remove the rear bumper (see page 20-260).
2. Release the hooks (A), then remove the rear air outlet (B).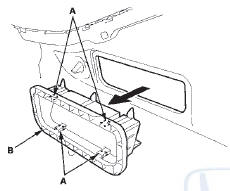 3. Install the air outlet by pushing on the hook areas until the hooks snap into place.
NOTE: Take care not to scratch the rear bumper or the body. 1. Remove the screws, then remove the rear inner fender (A) from the rear bumper (B) and the body. 2. Install the inner fender in th ...
See also:
Vehicle Storage
If you need to park your vehicle for an extended period (more than 1 month), there are several things you should do to prepare it for storage. Proper preparation helps prevent deterioration a ...
Oil Check
We recommend that you check the engine oil level every time you refuel. Park the vehicle on level ground. Wait approximately three minutes after turning the engine off before you check the oil ...
Ignition Key Light Test
1. Remove the steering column upper and lower covers (see page 20-181). 2. Disconnect the 6P connector (A). 3. The LED should come on when power is connected to terminal No. 6 and ground is co ...