Honda Accord: Protecting Children - General Guidelines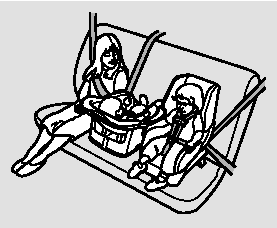 Children depend on adults to protect them. However, despite their best intentions, many adults do not know how to properly protect child passengers.
If you have children, or ever need to drive with a child in your vehicle, be sure to read this section. It begins with important general guidelines, then presents special information for infants, small children, and larger children.
Do not attempt to deactivate your airbags. Together, airbags and seat belts provide the best protection. Do not tamper with airbag components or wiring for any reason. Tampering could cause t ...
Each year, many children are injured or killed in vehicle crashes because they are either unrestrained or not properly restrained. In fact, traffic collisions are the number one cause of dea ...
See also:
Switch Test/Replacement
1. Remove the center console panel (see page 20-157). 2. Disconnect the 6P (or 7P*) connector from the seat heater switch, then remove the switch. *: Front passenger's seat heater switch 3. ...
Trim Remowal/Installatlon - Rear Side Area
Special Tools Required KTC Trim Tool Set SOJATP2014* *Available through the Honda Tool and Equipment Program; call 888-424-6857 2-door SRS components are located in this area. Review the SRS c ...