Honda Accord: Power Mirror Replacement
NOTE: Take care not to scratch the door.
1. Lower the door glass fully.
2. With your hand, carefully pull out the top edge of the tweeter cover (A) to release the upper hooks (B) and detach the clip. Remove the cover by lifting it upward to release the bottom hooks (C). Disconnect the tweeter connector (D).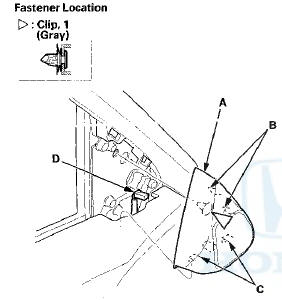 3. Disconnect the power mirror connector (A).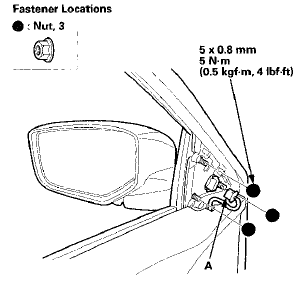 4. While holding the power mirror, remove the nuts securing the mirror.
5. While holding the power mirror (A), squeeze the retaining tabs on the connector clip (B), then push out to remove the power mirror.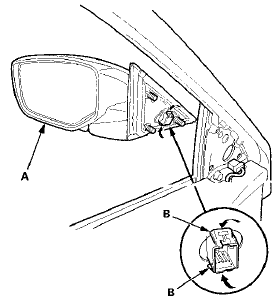 6. Install the mirror in the reverse order of removal, and note these items: - Make sure the connectors are plugged in properly.
- If the clip is damaged or stress-whitened, replace it with a new one.
- Push the clip and the hooks on the cover into place securely.
NOTE: - Put on gloves to protect your hands. - When prying with a flat-tip screwdriver, wrap it with protective tape to prevent damage. 1. Carefully push on the top edge of the mirror holder ( ...
See also:
Ignition Switch Test
NOTE: SRS components are located in the area. Review the SRS component locations 4-door (see page 24-21), 2-door (see page 24-23), and precautions and procedures (see page 24-25) before doing repai ...
VSA Modulator-Control Unit Removal and Installation
N O T E : - Do not spill brake fluid on the vehicle; it may damage the paint. If brake fluid gets on the paint, wash it off immediately with water. - Be careful not to damage or deform the brake ...
Voice Control Operation
Your vehicle has a voice control system that allows hands-free operation of most of the navigation system functions. The voice control system uses the (Talk) and (hang-up/back) buttons on ...