Honda Accord: Playing Bluetooth® Audio
Your audio system allows you to listen to music from your Bluetooth®-compatible phone.
This function is available when the phone is paired and connected to the vehicle's Bluetooth® HandsFreeLink® (HFL) system.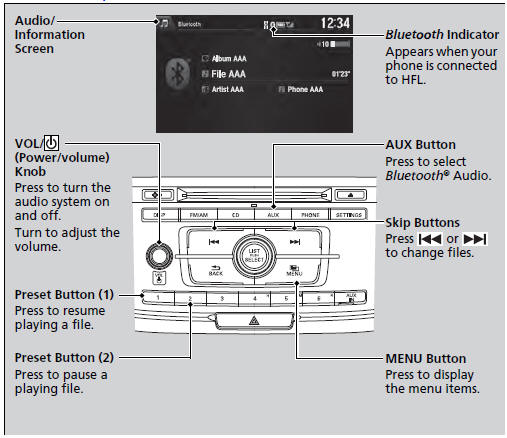 Not all Bluetooth-enabled phones with streaming audio capabilities are compatible with the system.
For a list of compatible phones:
• U.S.: Visit www.handsfreelink.honda.com, or call 1-888-528-7876.
• Canada: Visit www.handsfreelink.ca, or call 1-888-528-7876.
In some states, it may be illegal to perform some data device functions while driving.
If more than one phone is paired to the HFL system, there will be a delay before the system begins to play.
• To Play Bluetooth® Audio Files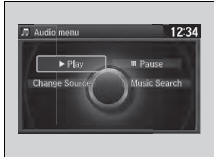 1. Make sure that your phone is paired and connected to HFL.
2. Press the AUX button.
If the phone is not recognized, another HFLcompatible phone, which is not compatible for Bluetooth® Audio, may already be connected.
• To pause or resume a file
1. Press the MENU button.
2. Rotate

to select Play or Pause, then press

.
To play the audio files, you may need to operate your phone. If so, follow the phone maker's operating instructions.
The pause function may not be available on some phones.
If any audio device is connected to the auxiliary input jack, you may need to press the AUX button repeatedly to select the Bluetooth® Audio system.
Switching to another mode pauses the music playing from your phone.
• Switching to HFL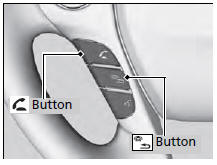 Press the

(pick-up) button on the steering wheel to receive a call when Bluetooth® Audio is playing.
Press the

(hang-up/back) button to end the call and return to Bluetooth® Audio.
If you receive a call while Bluetooth® Audio is in the pause mode, it will resume play after ending the call.
Your audio system reads and plays sound files on a USB flash drive in either MP3, WMA or AAC*1 format. Connect your USB flash drive to the USB port, then press the AUX button. • How to Select ...
To use the audio system function, the power mode must be in ACCESSORY or ON. Use the selector knob, DISP and BACK buttons to access some audio functions. Press to switch between the normal ...
See also:
Cylinder Head Inspection for Warpage
1. Remove the cylinder head (see page 6-76). 2. Inspect the camshaft (see page 6-84). 3. Check the cylinder head for warpage. Measure along the edges, and three ways across the center. - If ...
Parking/Daytime Running Light Bulbs
Parking/daytime running light bulbs are LED type. Have an authorized Honda dealer inspect and replace the light bulbs. ...
Rear Window Defogger
The rear window defogger will clear fog, frost, and thin ice from the window. Push the defogger button to turn it on and off. The indicator in the button comes on to show the defogger is o ...