Honda Accord: Playing a USB Flash Memory Device (Models without navigation system)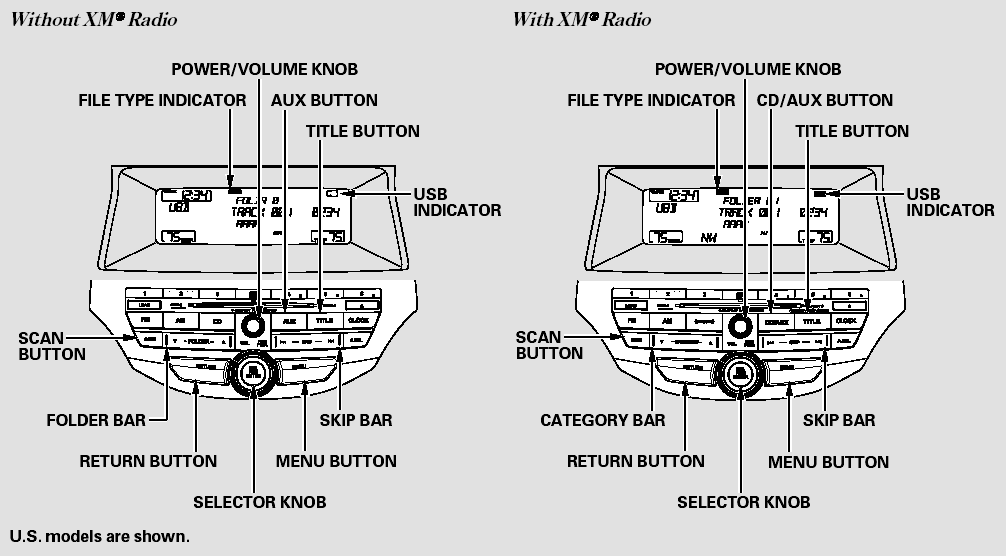 Playing a USB Flash Memory Device (Models without navigation system)
If you see an error message on the audio display while playing an iPod, find the solution in the chart to the right. If you cannot clear the error message, take your vehicle to your dealer. ...
This audio system can select and play the audio files on a USB flash memory device with the same controls used for the disc player. To play a USB flash memory device, connect it to the USB a ...
See also:
To Play the Radio
The band and frequency that the radio was last tuned to are displayed. To change bands, press the AM or FM button. On the FM band, ST will be displayed if the station is broadcasting in stere ...
General Troubleshooting Information
How to Use the Self-diagnostic Function The HVAC control unit has a self-diagnostic function for the heating, ventilation, and air conditioning system. To run the self-diagnostic function, do the ...
Additional Safety Precautions
Do not attempt to deactivate your airbags. Together, airbags and seat belts provide the best protection. Do not tamper with airbag components or wiring for any reason. Tampering could cause t ...