Honda Accord: Passenger's Airbag Cutoff Indicator Replacement
1. With navigation: Remove the dashboard center vent (see page 20-178).
2. Without navigation: Remove the audio unit (see page 23-114).
3. Disconnect the 6P connector (A) from the passenger's airbag cutoff Indicator/hazard warning switch (B).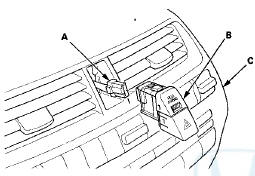 4. Push out the passenger's airbag cutoff indicator/hazard warning switch from behind the dashboard center vent/audio unit (C).
5. Reinstall the parts in the reverse order of removal.
Removal (Power seat) NOTE: Do not t u r n t h e i g n i t i o n s w i t c h t o ON (II), a n d do not connect t h e battery cable w h i l e r e m o v i n g t he d r i v e r ' s seat p o s i t i o n ...
See also:
Brake Booster Test
Functional Test 1. With the ignition switch in LOCK (0), press the brake pedal several times to deplete the vacuum reservoir, then press the brake pedal hard and hold it for 15 seconds. If the bra ...
If a Tire Goes Flat
Changing a Flat Tire If a tire goes flat while driving, grasp the steering wheel firmly, and brake gradually to reduce speed. Then, stop in a safe place. Replace the flat tire with a compact ...
Drive Belt Auto-tensioner Removal/Installation
1. Remove the drive belt (see page 4-30). 2. Remove the power steering (P/S) fluid reservoir from the holder. 3. Remove the P/S pump (A) without disconnecting the P/S hoses, then remove the P/ ...