Honda Accord: Passenger's Airbag Cutoff Indicator Replacement
1. With navigation: Remove the dashboard center vent (see page 20-178).
2. Without navigation: Remove the audio unit (see page 23-114).
3. Disconnect the 6P connector (A) from the passenger's airbag cutoff Indicator/hazard warning switch (B).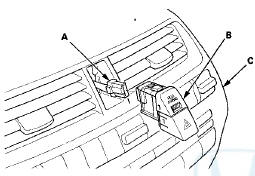 4. Push out the passenger's airbag cutoff indicator/hazard warning switch from behind the dashboard center vent/audio unit (C).
5. Reinstall the parts in the reverse order of removal.
Removal (Power seat) NOTE: Do not t u r n t h e i g n i t i o n s w i t c h t o ON (II), a n d do not connect t h e battery cable w h i l e r e m o v i n g t he d r i v e r ' s seat p o s i t i o n ...
See also:
Circuit Diagram
With automatic lighting Without automatic lighting Back-up Lights Brake Lights ...
Transmission Fluid Inspection and Replacement
1. Raise the vehicle on a lift, and make sure it is securely supported. 2. Remove the front splash shield (see page 20-291). 3. Remove the oil filler plug (A) and the sealing washer (B), check ...
Drive Belt Auto-tensioner Removal/Installation
1. Remove the drive belt (see page 4-30). 2. Remove the power steering (P/S) fluid reservoir from the holder. 3. Remove the P/S pump (A) without disconnecting the P/S hoses, then remove the P/ ...