Honda Accord: Parking Brake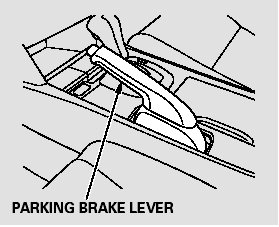 To apply the parking brake, pull the lever up fully. To release it, pull up slightly, push the button, and lower the lever. The parking brake indicator on the instrument panel should go out when the parking brake is fully released.

Driving the vehicle with the parking brake applied can damage the rear brakes and hubs. A beeper will sound if the vehicle is driven with the parking brake on.
If equipped The moonroof can be tilted up in the back for ventilation, or it can be slid back into the roof. Use the switch on the front ceiling to operate the moonroof. You must turn the ...
See also:
Transmission Number
Transmission Type 88E5: 5-speed Manual M91A: 5-speed Automatic B90A: 5-speed Automatic Serial Number 2 0 0 0 0 0 1 M 9 1 A , B90A 8 2 0 0 0 0 1 8 8 E 5 ...
Center Display Visor Removal / Installation
Special Tools Required KTC Trim Tool Set SOJATP2014* *Available through the Honda Tool and Equipment Program; call 888-424-6857 Without Navigation System NOTE: - Take care not to scratch the d ...
Crankshaft Inspection
Out-of-Round and Taper 1. Remove the crankshaft from the engine block (see page 7-14). 2. Remove the crankshaft position (CKP) pulse plate from the crankshaft (see page 7-30). 3. Clean the cr ...