Honda Accord: Oil Pressure Switch Test
1 Disconnect the oil pressure switch connector (A) from the oil pressure switch (B).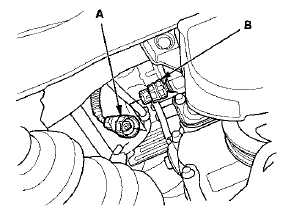 2. Check for continuity between the oil pressure switch terminal and the engine (ground). There should be continuity with the engine stopped. There should be no continuity with the engine running.
1. Connect the Honda Diagnostic System (HDS) to the data link connector (DLC) (see step 2 on page 11-3). 2. Turn the ignition switch to ON (II). 3. Make sure the HDS communicates with the vehic ...
1. Disconnect the oil pressure switch connector (A), then remove the oil pressure switch (B). 2. Remove any old liquid gasket from the switch and switch mounting hole. 3. Apply a very small am ...
See also:
Fuel Fill Door Adjustment
1. Slightly loosen the hinge mounting bolts (A). 2 . Adjust the fuel fill door (B) in or out until it is flush with the body, and up or down as necessary to equalize the gaps. 3. Tighten the h ...
Braking System Design
The hydraulic system that operates the brakes has two separate circuits. Each circuit works diagonally across the vehicle (the left-front brake is connected with the right-rear brake, etc.). ...
Rear Seat Cushion Cover Replacement
NOTE: -Put on gloves to protect your hands. - Take care not to tear or damage the seat covers. 1. Remove the seat cushion (see page 20-241). 2. From the back of the seat-back, release all th ...